On the last unofficial day of my Spring Break, I headed to the union I joined when I got this new job in order to pay my union dues and officially sign up. I don't have to be back in school until Monday but I have work the whole weekend so Spring Break pretty much ends today. Yesterday I wanted to get some things done, but they all fell through. So today I started out to get my union dues paid and ended up going to the Los Angeles County Museum of Art on a whim.

When I got out of the subway I noticed that the old Bullocks Wilshire was across the street. It was a photo op that I couldn't pass up. If you don't know what the Bullocks Wilshire is let me explain it to you this way.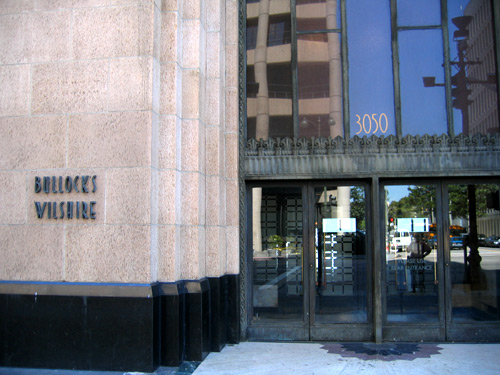 The Bullocks Wilshire was once the most exclusive department store in Los Angeles. It was the epitome of class. Sadly as many of the upper crust moved further West the store went downhill, finally closing in 1994. I was actually there the day it closed. The place was empty except for a couple of empty perfume counters and empty racks of clothes. I took pictures of it way back when, but nothing I was very proud of. The Southwest Law School took the store over and it now houses their law library.
After taking a few pictures I decided that I would treat myself to some lunch at the Farmer's Market. I had my metro day pass, which means I can pretty much ride the bus all day long. I jumped onto the Wilshire bus and took it to Fairfax. While driving by I noticed that the old Page museum (better known as The La Brea Tar Pits) didn't have a fence that had been built around it a few years ago.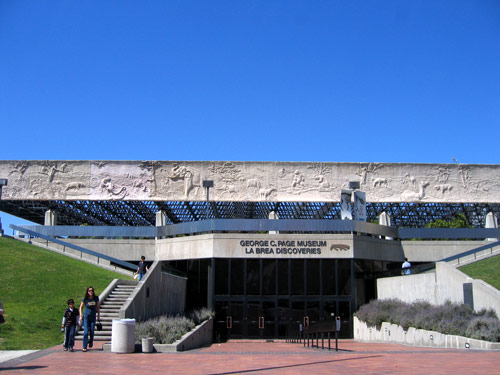 I thought to myself, "I should go take a few pictures." It was still early so I wasn't super hungry anyway. The bus stop is about two blocks from where the Page museum is, and in between is the Los Angeles County Museum of Art. As I walked by I noticed the following sign in front of the museum.
To my surprise there was a small exhibition of five Gustav Klimt paintings, including one of his better-known works, "Adele Bloch-Bauer I."
Everyone knows Klimt's "The Kiss," but one of my favorites is "Beech Woods (Birch Woods)."
The paintings moved me literally to tears. To be so close to works of genius just gives me the chills, and makes me react emotionally. Great art has that power because it's so far beyond anything the average person can, and will, accomplish. Standing so close you can notice all the little details makes the experience all the more powerful. I stood in front of the two paintings for a long time, trying to absorb every little detail. The pictures I posted here don't do these two paintings justice. If you're in Los Angeles you HAVE to go see them for yourself.
It's like when I went to see the Ansel Adam's exhibit at the LACMA. When I walked up and saw "Moonrise" I just lost it. These are the moments that I live for, the little treasured moments that I'll keep for the rest of my life.
I checked out a couple of other exhibitions and then my stomach was starting to grumble, so I headed to the Farmer's Market. The last time I was there I walked by one of the stands and saw them making these huge crepes. I ordered one and polished it off super fast.
So now it's nearly eight o'clock so I best get some dinner in my belly and get to sleep. I have work early tomorrow.
End Communication.