As I start to write this journal entry it's nearly 10:30 p.m. and I'm just now feeling sorta recovered from today. The heat today made me feel completely horrible. There were even times in which I found it a little difficult to catch my breath. Walking home I felt pretty damn horrible, to the point that I wanted to just sit down for a little while and rest. But I forged forward and made it home, only to stay seated until about a half hour ago.

Today was a good day, despite the horrible heat. I took a little trip to the Armand Hammer museum in Westwood.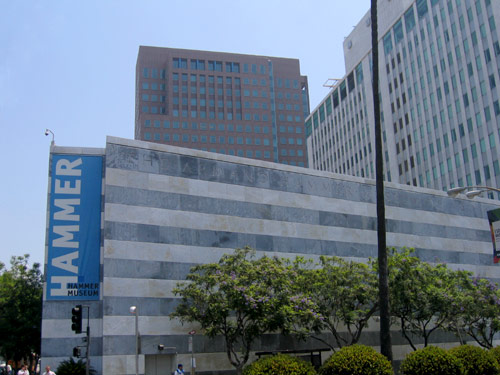 The cool thing is that they museum is free to anything this summer, not that I mind paying. Still, it's kinda cool to walk into a museum for free. The exhibitions were right up my alley, with a great selection of Piet Mondrian's work, as well as Duchamp, Man Ray, and Kandinsky.
Usually on these daytrips I've been taking this summer I'll pick a place to go and a place to eat. This time was no different. I knew that I would be a bus ride away from one of the places I've wanted to try out for a long time, Langer's Deli. I've heard about Langer's Deli for a long time. It's famous for its pastrami sandwich, which automatically means I'm going to have to try it.
After the museum I hopped on the 720 bus heading downtown. I made a little stop to take a few pictures, that you can see on Vista Drive if you like. After my little stop I got on another bus and headed to MacArthur park. Years before anyone I know was alive MacArthur park was a jewel. Today it's is as rundown as the neighborhood that surrounds it. It's sad because there are still buildings around the park that are from the time when MacArthur park wasn't a home to the homeless. Today the neighborhood is dirty and greasy, and like I said before, rundown. Still Langer's remains on the corner of Alvarado and 7th.
Knowing that the specialty of the house is pastrami I ordered pastrami on rye with fries on the side.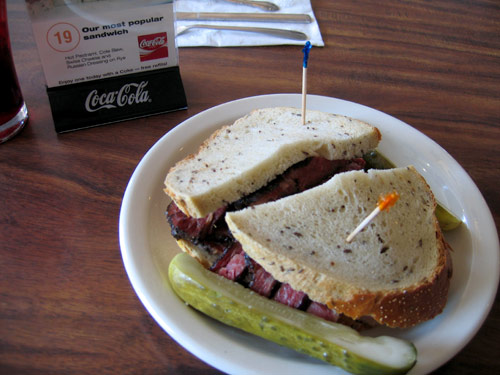 One bite and I knew why this place was still around. I like pastrami sandwiches, and I've eaten my fair share of them along the years. There's this place in Culver City that I've mentioned to friends called Johnny's. I "discovered" the place years ago when I had a job delivering auto detailing supplies. Then I found The Hat, which has a great pastrami sandwich too. But I think that the Langer's pastrami might have been the best I've had. It's damn good. I know I'll be back some day soon. My plan after Langer's was to go down to Pasadena for some pie, but that fell through because I stopped over at Chinatown to look for a tea infuser. To my amazement I couldn't find a good infuser anywhere. This is about the time when the heat finally got to me. Despite that I still went to Little Tokyo to look for the infuser. Again, no luck finding what I wanted. I know where I can get one that I like, but I'll have to get that tomorrow. Still, it's amazing that I couldn't find a tea infuser in the two places I was sure would have it.
Friday the movie "Miami Vice," based on the 80's TV show of the same name, opens up. I won't be able to check it out on opening day, but I'm making it a point to see this movie. I'm old enough to have watched the TV show growing up. As a kid I really didn't have favorite shows until Miami Vice came along. Man did I love that show. Anyone who is a fan of the show will probably end up going to see the movie, even though it doesn't have the same actors. Nevertheless, Michael Mann, who produced the original series, directed this new movie so I have hopes that it won't suck. Of course it could very well suck ass, but I guess I'll see if that's the case. It's incredible that the influence of that show continues over 20 years since it first aired. There was an article in the NY Times entitled, Miami Vice is back, but it seems the style never left us" that basically talks about the influence that show had on fashion and TV. I just remember that the show was entertaining and fun to watch.
Even if the movie sucks I still have the show on DVD. Not many people know the show, but let me tell you that the first two seasons were absolutely perfect. I don't remember there being a bad show those first two seasons. Speaking of that, last night I found out that iTunes had the first season on sale. Silly me actually bought one of the episodes, even though I have it on DVD. I downloaded what is the quintessential Miami Vice episode, Evan. Mention "Evan" to anyone that's a fan of the show and they will agree that it's the best episode of the series.
End Communication.