We pick up the story this past Sunday, when a couple of my co-workers and I went to see the super funny (unintentionally I might add) movie "Material Girls." I think the dozen other people in the theater must have HATED us making stupid comments and laughing inappropriately throughout the movie. But ask me if I care and I'll tell you know, because I had a great time playing Mystery Science Theater: Sunday night out with the co-workers version. Now, my review of the movie is as follows. "Material Girls" is a retread of the now tired story of the rich person who loses all their money and can't do a thing for themselves, not even boil water. As it always happens in these kinds of movies, the rich person finds that they don't need money to be happy. Yet in the end of all these movies the now poor person regains their wealth and all is well in the world. Because now we're supposed to believe that they better appreciate their money now that they've experienced not having it for a little while. Sure, whatever. The movie was pretty farfetched, but not horrible. Of course making fun of it made it better. There were times when I did think that someone in this production was kinda winking their eyes, as if to say, "Hey, I know this is crap too." I say this because there were times when some of the jokes seemed to be more about the two leads rather than their characters. Either way, a fun time was had on Sunday.

Move to today, Tuesday, and my short trip to Knott's Berry Farm. Sunday night I was about to leave work when I remembered that I told myself that in these last few days of summer I was going to try and enjoy myself every day. I thought going to Knott's would suit that purpose, but it didn't at all. I woke up super early in order to catch the bus to Knott's. The bus trip was just about two hours from my house to Knott's. I took the following picture while waiting for the bus this morning, at exactly 8:42.
I took this picture when I arrived at Knott's at 10:46 a.m.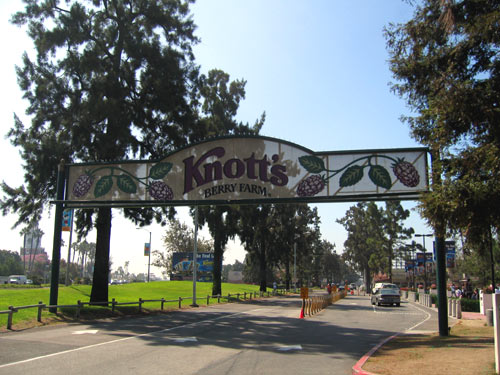 So really I made great time, I think, considering I was on the bus. I went into the park with my prebought ticket form Ralphs and planned on having a good time. Well, I basically got on three rides and walked around a lot. This woman by the entrance saw me walk by her at least six times. By the last time she saw me I'm sure that she was thinking, "What the hell is this guy up to?" Here's a picture of the replica of Independence Hall that I took after leaving Knott's for good, at exactly 1:40 p.m.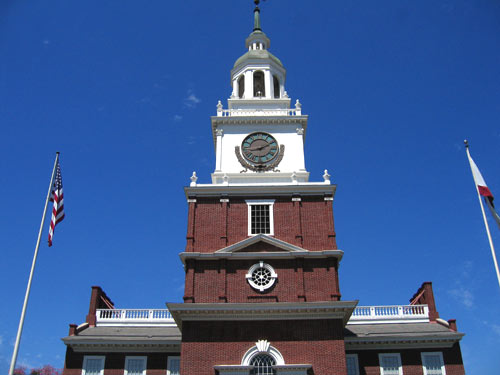 So I paid $30 to spend about three hours walking around Knott's Berry Farm. I remember years ago when I had my Disneyland annual pass I would go to Knott's on my way back home to pick up some biscuits from the chicken to go place. It was fun going there on my way home, but I don't think I'll be there for a while. The park was OK, but not really my cup of tea. If I was having fun I wouldn't have left after three hours.
I was hungry when I got out, but instead of getting some chicken I took the bus and went to Disneyland. I didn't go into the park, but rather to the CityWalk like Downtown Disney thing outside the park. I wanted to try out the Rainforest Cafe, but funny enough I ended up only taking pictures of it, not going in.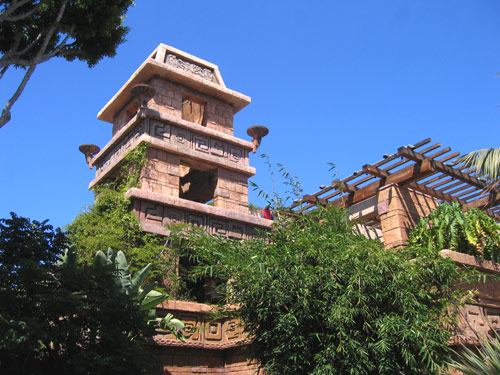 I ended up eating something at the ESPN zone, a burger with some cool stringy onion rings and BBQ sauce. It certainly wasn't the best meal I've ever had, but not bad though. I may go back and try the Rainforest Cafe next time, who knows. The problem with these places is that they basically have the same things. Years before the big Disney expansion there was a restaurant at the Disneyland Hotel called The Monorail Cafe. Named that because it was right next to the monorail entrance. Now that place had a great variety of food, and huge portions. Oh man and some of the best beer battered onion rings I've ever had. The batter was so light and fluffy and of course tasty. When I had my Disneyland annual pass I would always go to the Monorail Cafe for lunch. They had great burgers, great shakes, and great onion rings, like I said before. One day I overhear one of the waitresses talking about how the place was closing. I asked and she told me that they were closing the place in order to build this new thing called Downtown Disney, but that the Monorail Cafe would be back. Well, it didn't come back and that's sad. You know what they say about all good things coming to an end. The same goes for summers. A week from now class starts and I'll have my nose to the grindstone.
End Communication