(12:35pm) Saturday January 27th is the last full day I'll have off in a long time. The only other day I'll have off all to myself is the day I decide to play hooky from work or school. Failing that I'll have a day off during Spring Break, which is in April. So yeah, I want to make the most of today, but what do I do? I sleep in and now one of my planned activities fell through. The other might still happen, but that won't be until later today, and I'm still in my PJs.

(1:00pm) I took a shower, at least, but now I'm just sitting here writing this entry. Hell, I'm getting up from this desk and getting dressed. There are so many little things that need to be done, so I'll just see how many of them I can get done before the day ends.

(9:54pm) Well, it's nearly bedtime. Not that I have to get up early tomorrow, but more because it's been a long day. I wanted today to be like a mini-vacation of sorts. While it wasn't the most ideal vacation day, I didn't go sightseeing, it was still nice to not to go to work for once. I had lunch with my friend Cazadora Artemis and then went to Target to buy some things. I love just hanging out, which is something I haven't done in a LONG time. Tomorrow it's back to the grind, which is going to suck a bit after having a day of fun. :( Then on Monday school starts and I won't have a day off until Spring break. So yeah, I wanted to enjoy today, and now I'm repeating myself so I'm going to stop.
The picture above is of the window of the Aroma Coffee and Tea Company, which is where I had lunch today. It's a really nice little place with decent food and great desserts. I'll have to go back there again soon. My friend Cazadora Artemis and I basically caught up on what we've been up to since we last saw each other, which was a lot. She showed me a million pictures of her trip to New York. Of which I'm totally envious of, since I've never been. Someday I'll be able to afford to go to NYC and take a million billion pictures of the city that never sleeps. Until then I have to visit it vicariously through pictures. It's going to be real hard to go to work tomorrow after having such a good time not working today. Which reminds me of this thing I saw on PostSecret the other day.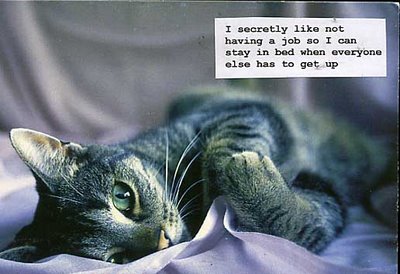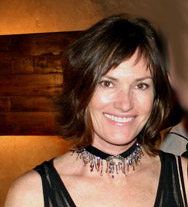 This now also reminds me that I saw a celebrity (of sorts) at the Aroma place... Chelsea Field (pictured right). I know what you're thinking... "who?" OMG , growing up I saw her on this crappy little show about nurses that was on for like 2 minutes. But man, she was so fucking hot on that show (at least I thought so). So seeing her in person, granted 20 years after that show first aired, was a bit of a thrill. Especially since she looked good... damn good. I almost never get starstruck, and I didn't this time. It would have been nice to say I remembered her from back in the day. But oh well, maybe the next time I go to that restaurant I'll run into her and start up a conversation. Not bloody likely though.
(3:41pm Sunday) Life is for the living, which I mention because I got the news that one of my co-workers died today. He was hit by a car a little over two weeks ago. He slipped into a coma, or was placed into a coma, depending on who you hear the news from, and never recovered. Everyone at the store is feeling down today. I didn't know the guy very well, even though it's been nearly a year since I started working there. He worked in a different part of the store, so I hardly saw him. From what little interaction I had he seemed like a good guy, a quiet one for sure. Still, having lost my Grandmother and my cousin in the last two years I know all about the pain of losing someone. I feel for his family, because they're the ones that are now left to grieve.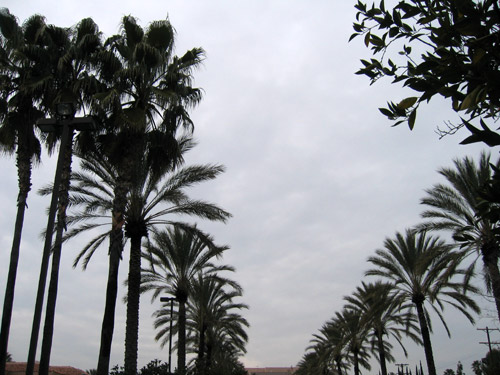 The sky looked so cloudy today, as pictured above. I know that one of the most vivid memories of the day my mother passed was of how cloudy it was, not unlike today. I wonder if THAT will now be one of the memories my co-worker's family will now carry for the rest of their lives. Yet like I said at the beginning of this thought, life is for the living. My grandmother said that to me as she lay dying in a hospital bed, and I've taken it to heart. Life IS for the living, and one must NEVER take it for granted. I try not to, though it's easy to slip into not really living but just existing. It's important to take some time to actually live.
(10:24am Monday) Well, my mini vacation is long gone now, washed in a day of work and now heading off to school. This semester I've tried to space out my classes a little more. I have four classes, but no more than two any single day. I hope this helps me not fall back as much as I did last semester. Because last semester was a total bitch, and I hated it. It will easily go down as the worst semester I've had to deal with (hopefully ever).
(8:21pm Monday) The first day of the semester is out of the way, even though I only had one class today. I was late to class because I can't stop talking though. I was on my way to class when the clock went off and I realized that I was late. ARGH ! Thankfully I was only two minutes late, and the teacher had just barely started to talk about the class. Here's me fiddling around with my camera as someone else took my picture in the hallway after class.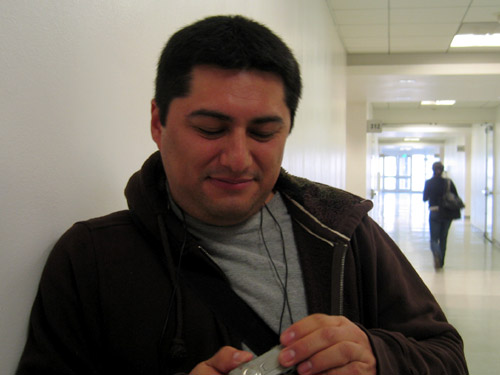 It's not late but I have some things to do before I go to sleep. I do have an early wake-up call tomorrow, so off I go to bed.
End Communication.