"It seemed like a matter of minutes when we began rolling in the foothills before Oakland and suddenly reached a height and saw stretched out ahead of us the fabulous white city of San Francisco on her eleven mystic hills with the blue Pacific and its advancing wall of potato-patch fog beyond and smoke and goldenness in the late afternoon of time." - "On The Road" Jack Kerouac

San Francisco was wonderful. The weather was perfect and so were the sights. I'm going to share with you a few of the pictures I took on the trip. So friday morning we jumped onto the 5 freeway and headed North. We made great time and arrived at 2pm. Plenty of time to check out some of the sights before having to rest.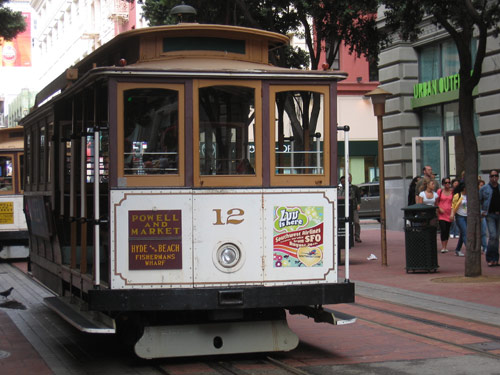 I checked into my hotel and got back on the street with Vagabundo de Granada. We figured that we could check out Chinatown before he had to head back to meet up with his friend. So, we walked up about five steep blocks and two not so steep blocks until we reached Chinatown.
The city, I have to say, was bustling. There's such an energy with so many people running around like ants on an anthill. It's like everyone has something to do and needs to be there five minutes ago. It's absolutely wonderful. Chinatown was the same way, full of people going here and there. We stopped to get a drink and had this girl completely not understand what we ordered. It was good though, and needed after the long drive. We ended up going to the cable car museum, somewhere I always wanted to go but never did on any of my previous trips to S.F..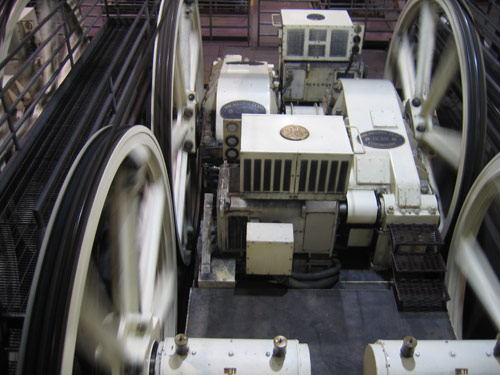 The previous picture is of the cable machinery. Those wheels are what drive the cable cars up and down the hills. Well, probably not down, seeing as gravity does that. On our way back downtown we heard this salsa music coming out of the Chinese rec center. So I to explore and found a bunch of seniors dancing up a storm. It was great, too good to pass up taking a picture.
Notice the sign that says "No Dancing Area" on the left. I thought that and the guy dancing was a nice contrast. But anyway, reaching the top of the hill we turned back and looked North towards the bay.
San Francisco is all about the views. When you look out you always see something just wonderful. Seeing the clouds framed by the buildings made me want to just stop for a moment and reflect. So we finally reached the BART station where Vagabundo jumped on a train.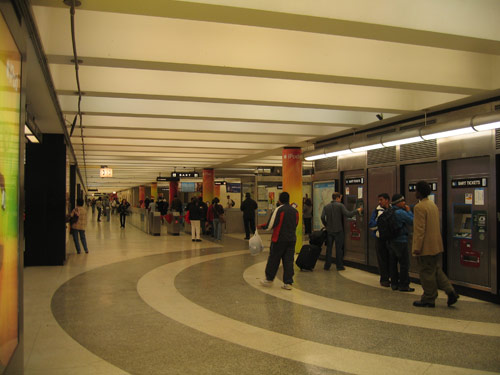 I walked around downtown for a little but then I got tired and retired to my room for a rest before going out to dinner. I rested and readied myself for dinner, even though I had no idea where I was going to go. I wasn't super hungry, so I just figured I would find something along the way. But to where?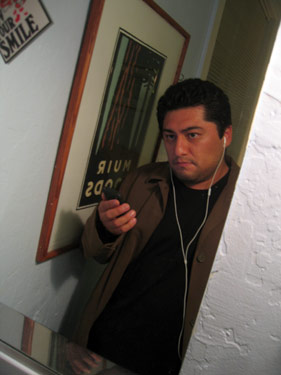 It was raining, so I grabbed my coat and umbrella and headed to the Embarcadero. I had a bus pass, but something made me just want to walk. I figured if I got tired, or the Embarcadero was too far that I could take the trolly. But, I didn't get tired. I walked to the ferry building.
I wanted to ride on the historic trolley/streetcars so I got my pass out and waited for the next streetcar to arrive. At this point I knew that I wanted to go to the Fog City Dinner. I saw pictures of it online and figured that if I didn't get a good meal there I could at least get a good picture or two. I actually got the opposite, the meal was good, I had chili, but the picture I took of it came out bad (I think).
I wondered if I should walk off dinner by walking all the way back downtown. But, being full of food and still a little tired I decided to take the F train back. I stood there waiting in the mist when I looked down and saw a plaque with the quote I started this entry with. I have since found out that the quote is wrongly attributed to a story named "The City." Which Kerouac didn't even write, he wrote something called "Town and the City." But even then, the quote is from "On the Road." I wonder if anyone else noticed the mistake. I boarded the streetcar and went back to the hotel.
Saturday I planned on going to Golden Gate Park. I planned on hitting a lot of sights, the Botanical garden, the Japanese Tea Garden, the Conservatory of Flowers, and the de Young museum. I wasn't in the mood to eat, so I just drank some iced tea and got on the bus. I knew where I was going, but silly me jumped the gun and got off a stop before 9th street. Which meant I had to walk, but it was nice. I got to see more of the park that way. I walked into the botanical garden and took a bunch of pictures.
The main picture I took there is now in Vista Drive, and here it is.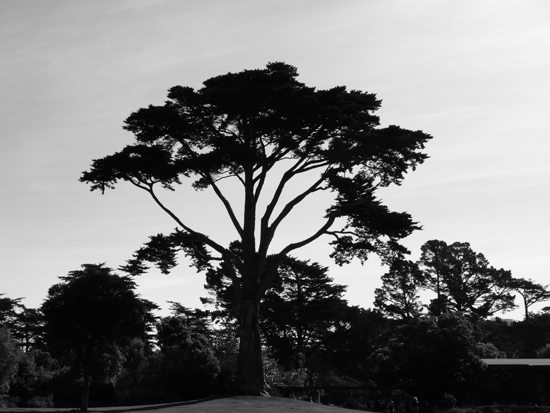 I then went to the Japanese Tea Garden, which I remember visiting when I was young. There's a picture of me when I was a child drinking tea and it looks like my legs were crossed. My Mother asked me, "Did you have your legs crossed?" I don't remember, but probably not. Funny, because now when I eat I do cross my legs.
This is where I dropped my Leica camera though. I quickly got the memory card and the battery out, but the camera was dead. Right now it's semi-alive, but more on that later. Following the Tea Garden I went to the de Young museum. The previous times I've gone up to San Francisco I don't ever remember visiting the museum. It was OK, the collection had some highlights, but mostly I got the ticket because the same ticket would get me into the Palace of the Legion of Honor later. The tower at the de Young did offer some beautiful views of the city and of the park.
Following the museum, and breakfast at the museum, I headed to the Conservatory of Flowers.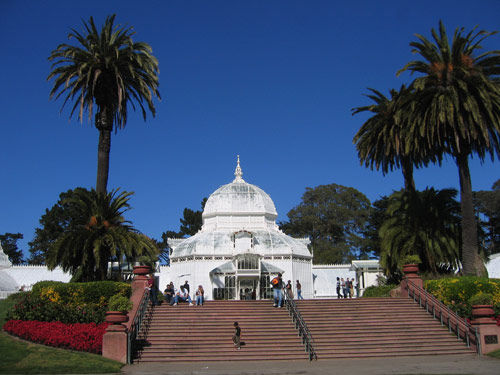 It's probably the most famous sight at Golden Gate Park. Everyone wants a picture of it, including brides. There was a marriage party taking a ton of pictures in front of it. I was tired so I took a rest. But I couldn't rest for long if I wanted to get to the Legion of Honor. Besides, there was still more of the park to see.
I exited the park and headed to the bus stop to get to the Legion. I had to transfer a couple of times but I made it to the Legion in about an hour. Pretty good considering. Again, this is another place I had never visited on my previous trips. I've seen the Palace of the Legion of Honor in a movie, "Vertigo," but never in real life. It was quite the sight, and it made me wonder if people living in the city ever tired of its beauty.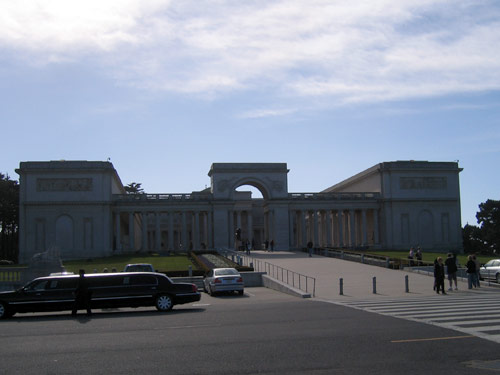 The collection there was much better than at the de Young because it had more impressionist works. I figured that I should try and see the Golden Gate Bridge, but I was feeling tired so I went back to my hotel.
Sunday I hit the ground running. I had breakfast and then took the bus to the Golden Gate Bridge.
The Bridge is quite an amazing sight. I've seen it before, but I've never crossed it on foot. The day was warm, so the jacket I bought was actually hindering. I crossed it and then crossed back. I was quite beat after the double crossing. All I wanted to do was get a drink. But the bus was coming soon and if I missed it it meant having to wait an hour. So I jumped on the next bus, which actually turned out to be the wrong one. I didn't care, it was going my way. I paid the fare and got off at the next stop, the Palace of Fine Arts.
Talk about pretty, the place seems to be frozen in time, back in a time when there was detail on ever surface. I sat a while, forgetting that I was super thirsty, and just looked at the structure. Once again I wondered if people in the city ever got tired of this wonderful place. I would hope not, and I would think not. I got a drink, finally, and walked around the Palace.
The Palace reminds me of something out of a Maxfield Parrish painting. I took a picture that is in Vista Drive now that I entitled "My 'Maxfield Parrish' attempt" because it is my best attempt at recreating the look of his painting.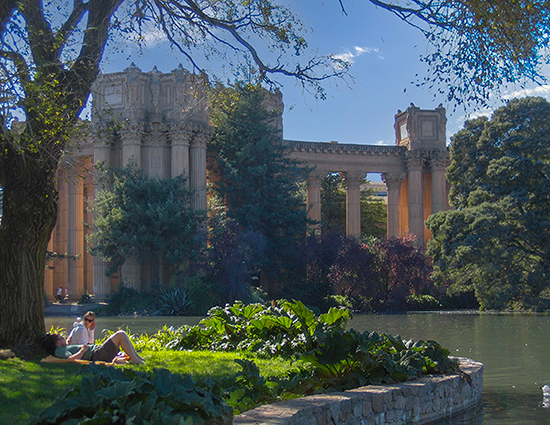 It was cool because I saw a Maxfield Parrish at the Palace of the Legion of Honor the previous day. After that I was pretty much beat, so I went back to the hotel for a rest. After the rest I walked around downtown and went to dinner at the Ferry building before going to get some ice cream on Russian hill.
I had a wonderful time, and I was sad to go, but also happy to be going back home. Today I have crappy work, which sucks, but at least I did get a call from the San Marino library saying that I've been selected to get an interview for a job there. The interview is on November 8th, so wish me luck that day. After so many rejections and failures I'm ready for something to go right. I'm grasping at straws here. I've given up finding someone, and my new camera, which I was going to use to expand my photography, is not working. So, I need this to work out or I might make another trip to San Francisco in order to throw myself off that wonderful bridge.
End Communication.