This week was pretty pointless, like every week of my life it seems. My problems stem from one thing, not having any money. Iím living on the edge on a part-timerís salary. Iím paying for things in the past, like actual bills from the past I mean. There was a period of time in which I lived off my credit cards, because I wasnít working. Now that Iím working Iím paying those bills off, but then new ones get piled on top of those old debts. Friday night I came home from work to find a reminder that yet another bill is coming soon... my student loan. I paid for the first semester of this stupid library school experiment out of pocket, because I had the money from my Fatherís house selling. But I still needed more money, hence the loan. Well, even though Iím not going to school I still had to spend that money. I wanted to keep most of it so I could pay it nearly all back. However, I still had that huge debt from the plumbing bill a year and a half ago. That bill went from zero percent to something like a 22% interest rate. I was not going to be able to pay that off any time soon, or even keep up with the minimum payments. So I used the loan money to pay for the other loan. Now the student loan has come to roost... $8,500. They want the first installment next month. December 7th will be my Pearl Harbor day, because I have no idea how Iím going to come up with ANOTHER $100 to pay for that loan. Iím already at the edge now. I have a couple of bucks in reserve for this loan, but that will only last me for a few payments. I need to find a third job. But what I really need to find is a way to sell my photos while working a better paying job. Thatís the only way I can start to make headway against this mountain of debt I have accumulated over the years. Jeez, what I am to do?

* * * * * *

On a totally different subject... How come whenever someone dies they only thing anyone can ever say about them is that they were ďniceĒ and that they were ďso funny?Ē Not everyone is THAT funny. Not everyone is THAT nice. Whenever thereís a news story about how someone tragically died those interviewed always say the same bullshit about the person who died: ďThey were so funny, they always made me laugh.Ē Yeah, sure, thatís the only thing they can say about them because they didnít really know them. You canít really know a person completely. But to say something so generic makes me sick. Also, death whitewashes the person. Because how come no one on the news every says, ďMan, that guy was a real jerk. Iím glad a car hit him.Ē Know why, because no one wants to say anything negative about the dead, and because people are phony. Itís suck bullshit.

* * * * * *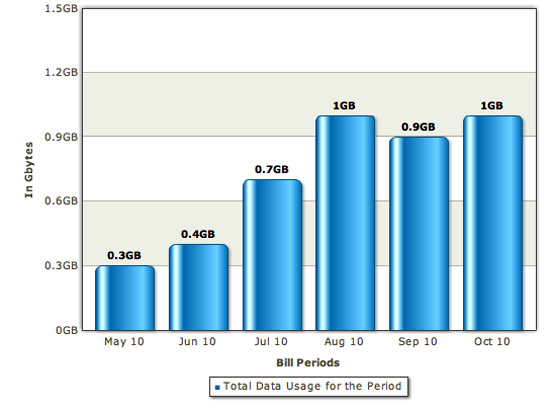 Since AT&T is screwing me over with my unlimited data plan I figured that I would use my iPhoneís data whenever possible, as as much as possible. The photo above shows my data usage trend over the last few months. Notice the upwards trend. What you canít see if this monthís trend, which is MUCH higher than any of these months. I jailbroke my iPhone last week, after having to suffer four days without home internet and phone. My only connection was from my iPhone, but I couldnít use that to connect because AT&T charges an extra $20 a MONTH to turn on tethering. By jailbreaking I went around that restriction and by downloading a little app called MyWi I can create a wi-fi hotspot with my iPhone. I use that to connect my old iPhone to the internet, streaming Pandora while Iím driving to and from work. And Iím also using Netflix a lot these days. In the first four days of this bill cycle Iíve used 393MBs of data. Projected that means close to 4 gigs of data used this coming month. In short... suck it AT&T! I plan on getting every bit of data from my $30 plan from now on.
End Communication.