I donít have much money right now, but I went ahead and bought a fisheye lens for my iPhone for $20. I had to get it because relying on my film fisheye camera is sometimes troublesome. One of the best things about digital cameras is that you get to see the result nearly instantly. With film I have to wait until the film is processed. I get some good shots out of the my film fisheye camera, but there are other times when I get nothing but an underexposed image. That really sucks when itís a one shot in a million picture that I missed.

The following isnít a one in a million shot, but it is one of the first Iíve taken with the new lens and camera combination.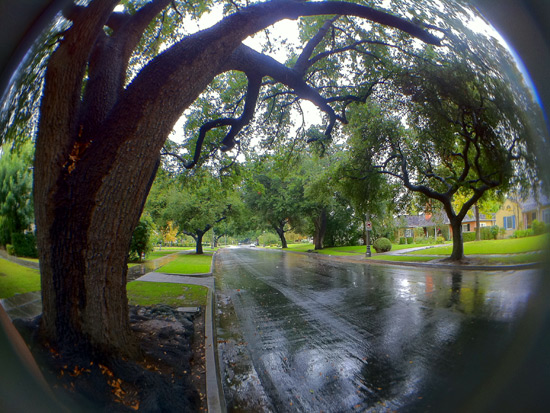 * * * * * *
One of my biggest pet peeves is when someone shows off something artistic (like Iíve been known to do) and get praise HEAPED on them for the littlest thing. I donít get it with my work. I almost never get praised for my work, and when I do I take it all with a grain of salt. Most of the time I get a blank reaction. But my pet peeve isnít based on the fact that I donít get praised for good work, itís based on when others get a ton of praise for something mediocre.
A friend of mine sent out a link to a video on YouTube where sheís singing a song. Her rendition of the song is OK at best. Compounding the problem is the fact that the recording isnít very good. It sounds like it was recorded with a tin can and a string. But under the comments there was praise for how great it was. If I chime in with the idea that maybe next time it shouldnít be recorded in a hallway, or stairwell I would subsequently be told that I donít like anything. Or that Iím always negative. Iím not. If she sang the song well I could let go of the echo, the bad mixing, and the poor song choice. But the song isnít sung well. So the mediocrity REALLY comes out. And itís because some people donít ply their craft. They think that their given talents are enough. They arenít, natural talent is a starting point. The great artists had great talent, but they also worked hard to hone that talent. My friend does not do that. So to read how ďgreatĒ the song was sung does piss me off a little. Because I see it as false praise. More so I see it as unproductive and not constructive. But if my friend were an artist at heart she wouldnít settle for good, or great. She would strive to be the best. I donít see her doing that. Iíve never seen her do that.
* * * * * *
Ever since Target added more groceries to their stores I have been doing more shopping there. I do like Target, but I donít get the concept behind their checkout lines (pictured below).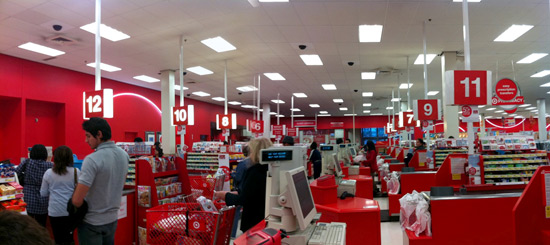 The checkout stands are on double rows, one in front of the other. Access is often limited to a register in the front if there are a lot of people in the back registers. I really donít get the logic in double stacking the registers unless one line feeds both registers. But then how can people rely on having two registers in one line, supposedly for speed, when items are already placed on the conveyor belt? I really hate shopping at a place that feels like the little things havenít been thought out, like in a store like Costco. When I go to Ikea thereís one line per register. The store is laid out in a certain way, that leads people one day towards their purchases. Costco is a clusterfuck when it comes to store layout. Nothing feels like itís thought out in anyway. Itís just, hereís the stuff, hereís a bunch of registers, have at it. People donít flow at Costco, they jam up, they meander and clot. Target is in between. The stores are nicely laid out when it comes to merchandise, but not when it comes to paying. I try to shop when I know fewer people will show up because I know that there will be fewer cashiers on duty. More means more of a chance that both front and back registers will be open in any given line. Somehow I always end up in the slow line. The best kind of line, I feel, is the snake line. A snake line consists of one line for everyone, each waiting for the next available cashier to finish their transaction and move on to another. The snake line harnesses the power of multiple cashiers to the maximum. If one cashier is slow, or is dealing with a problem that will take a long time it doesnít matter, because the other cashiers will make up the difference. No one is stuck having to wait in the slow line, or the line where the person is writing out a check. Because thereís only one line that feeds all cashiers. Itís a great solution that I wish more stores adopted. Alas, this plea will fall on deaf ears and Iíll have to continue to suffer waiting in line to pay for my stuff.
End Communication.