Itís strange to visit a former workplace and find most of the same faces there. Today I went to my old job, a grocery store, and saw at least ten faces from when I worked there. I lasted nearly two years at that job, and quit three years ago, and yet so many things havenít changed there. The store has been slightly remodeled, but the same people remain. I know I keep saying the same thing, but itís nuts because I think of the people that work there for years and years and years. I was pretty miserable at times, and I couldnít wait to leave. I think about that now with the jobs I currently have. I jump around, getting an itch within two years, so itís amazing that Iíve lasted three years at both of the current jobs. The economy is the main reason I havenít jumped ship.

* * * * * *

I donít really ďdoĒ Christmas anymore. I thought after last year I would get the Christmas spirit this year and once again decorate the house like I used to. But, I never got that worked up about it. I loved the weather. The chill in the air really made it feel like the Holidays. I do miss this time of year because the sun goes down early, thereís an excuse for staying home, and the light really twinkle in the crisp air. But, it didnít motivate me to decorate. I guess Iím just too lazy. I did love the Christmas displays. Christmas day I went to Cliftonís to have dinner with my Aunt and my Godmother, and Santa (pictured below) gave me a candy cane. It was sweet.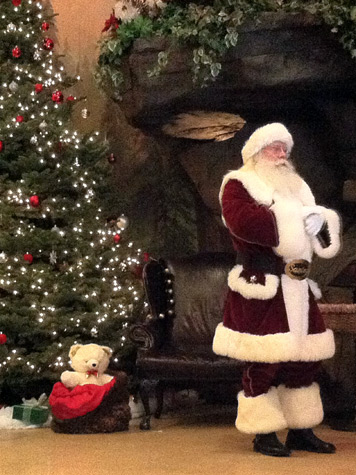 * * * * * *

The photo above is of a former Burger King up the street from where I live. The significance is that it is a FORMER Burger King. In the last six months two of the closest fast food joints to my house have closed. First was the Carlís Jr. I practically lived in. Every Friday night after work, it seemed, I would go in there to buy a burger and fries. Probably best that it is gone. Since the next nearest Carlís is a couple of miles out of my way I have not eaten there that often lately. I switched to the Burger King up the street. Itís not my favorite, but I did find something on their menu I liked eating... two for 99Ę crispy tacos. They tasted pretty good, and the price made them all the more appealing. But now that Burger King is gone, and the closest fast food joint I have is the McDonaldís up the street. But Iíve pretty much had it with McDonaldís. I still love their fries, but their burgers have gotten super small, but the price has gotten really high. I mean nearly $3 for a Big Mac? Thatís nuts! I have tried other things on their menu, like the angus burgers. But those angus burgers were super dry the two times I tried them, and a regular old Quarter pounder with cheese was tastier, and cheaper. So yeah, unless Iím going to have their breakfast Iím pretty much staying away from McDonaldís. I guess I should be happy that the Burger Queen is gone, it eliminates another fast food joint for me to be tempted by. I just wonder what will replace it. Ideally a Tommyís burger joint would be PERFECT there. But those are too busy for the Encino neighborhood to allow. Also, I would be there nearly daily. Hey, I just had a thought... maybe they will build a Carlís Jr. there. Now that would be great.
End Communication.