I havenít had much free time away from The Girl, hence me not being able to update this journal. But here I am now with a few minutes to record whatís been going on in my life since I wrote last. On a side note, before I go too far into that let me just say that time really does feel like itís flying. As I typed that first sentence about last week I think about how super fast this week went by. That being said, let us go back a week ago.

The Girl and I went down to Little Tokyo to find The Girl some enlightenment. And by that I mean that the girl wanted to become enlightened. She wants to become a Buddhist, like myself. She wasnít able to under her former circumstances. But now she wants to earnestly pursue Buddhism as a way of life. So we hopped onto the Gold Line from Pasadena and made our way to Little Tokyo.

But certainly if enlightenment was easy to achieve everyone would be enlightened. The journey towards enlightenment starts by understanding what Buddhism is. I practice it, but I certainly donít know it the way a priest would. So we went to Little Tokyo in search of a priest that would help The Girl down the path. But everywhere we went we either found closed doors or other obstacles. Case in point, the second temple we visited was open, but there was a funeral going on.
We went down the road a bit after having a funny encounter with the girl at the second temple. The Girlfriend said that she was looking for enlightenment, and the office girl said to the girlfriend, to paraphrase, that Buddhism is about finding your own path. Essentially saying, go and find your own path. LOL At the third temple we visited we found locked gates, but a parking lot full of cars. We walked until we found a side gate open, and went into what turned out to be a gym. A gym that had some sort of celebration going on.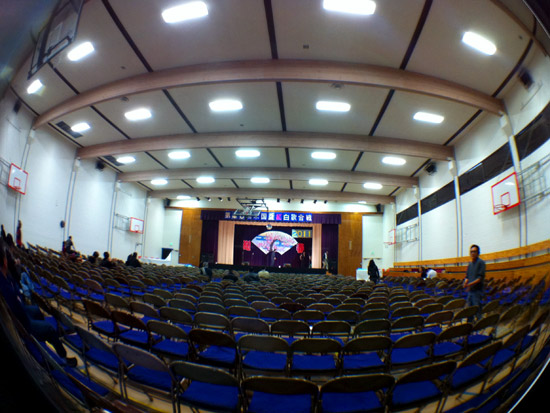 I think we got there when they were having rehearsals, because as you can see from the picture above there was hardly anyone in the gym. But the guy on stage didnít take that to mean that he shouldnít sing his heart out... Which he did. I turned to the Girlfriend and asked her if her life was ever this surreal. She said no, only around me do these strange things happen. The office girl at the third temple told us that the priest was busy and that he wouldnít be free until after a couple of services. Then she asked if we could come back later. We agreed and then went to the next temple on our list.
It was at the forth temple we visited that we finally got to talk to a priest. He talked to us a little about Buddhism, and gave The Girlfriend some information. We left happy and content that we finally got to talk to someone.
After that we headed back to Little Tokyo and shopped for a snack at a market there. Whatís cool about going into a "non-anglo" market is the unique stuff found in the aisles. Like the snack aisle, for instance.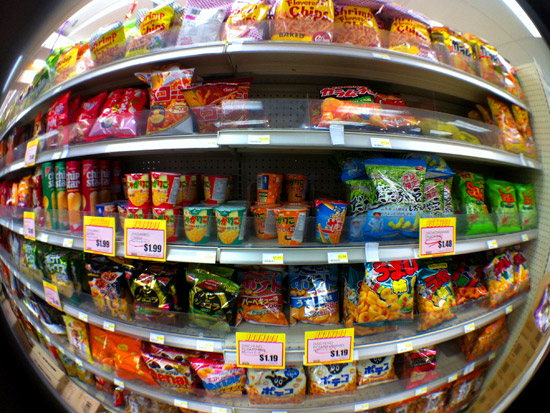 I donít like shrimp, but I was strangely drawn to the shrimp flavored chips. But, I didnít get them. Instead we got some cookies and ate them outside. A group of birds gathered around us, and I happily gave them some crumbs from my cookie. I even had a couple of birds eat out of my hand.
After our snack we walked to Chinatown and strolled around, checking out the galleries and the Chinatown plaza. We threw some coins in the wish fountain, and then went to Hop Louie.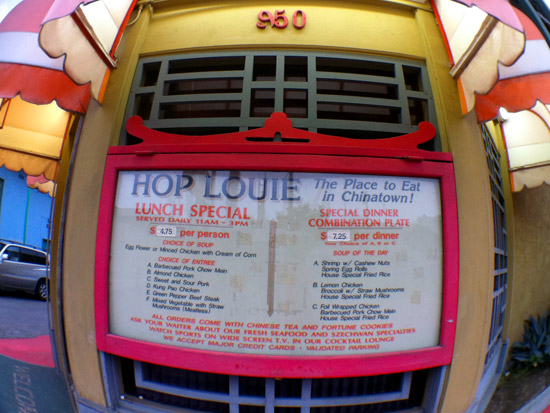 Now Iíve been going to Chinatown since I was a kid, and in all those years Iíve never eaten a meal at Hop Louie. Iíve taken pictures of the place, but never did I have the inclination to eat there. But, in the spirit of trying new things with the Girlfriend we went inside and ate dinner there. I canít say that the food was that great. It was passable, but nothing out of this world. Certainly the company was good, and the fact that my starving stomach was filled made it all the better. We went back home, tired but happy that we had a productive and happy day together. Good times.
End Communication.