Tuesday was a jammed packed day. The Girl and I have annual passes to Disneyland. But we have the least expensive ones, so weíre subject to a lot of blackout dates. The big block of blackout dates are during the summer months. Next week is the last time we can go until August 22nd. So we decided to head out and check out the new Little Mermaid ride and Star Tours revamp before I had to head off to work in the evening.

The parks were rather packed. but thatís probably because a lot of annual passholders had the same idea we did.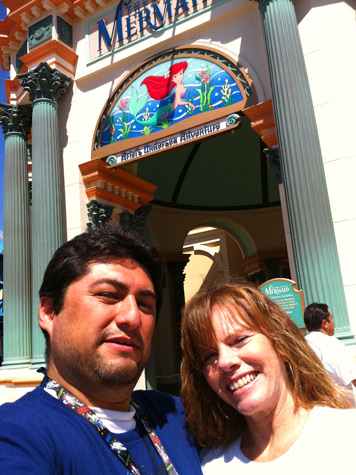 Here we are standing in front of the Little Mermaid ride moments after exiting. The ride was pretty cool. I wish it had been longer, but thankfully the wait in line, while just under an hour, we by pretty fast. Not sure I would wait in line that long again, but it was fun.
Following Little Mermaid and a trouncing by me on Toy Story Mania of The Girl, we headed over to Disneyland proper and waited in line to check out the new Star Tours. The line went pretty fast, and it was cool to check out the new little details added. Like this following picture, which shows the former pilot of the previous version of the ride sitting in ďcustoms.Ē
We ate at a local Iíve never eaten before, some placed called ďRancho del Zocalo Restaurante.Ē
The food was pretty decent, if not super great. Better than a a Mexican restaurant The Girl and I went to a couple of weeks ago. That food was totally terrible. After lunch we didnít have much time to do much else because I had to get to work at 5pm.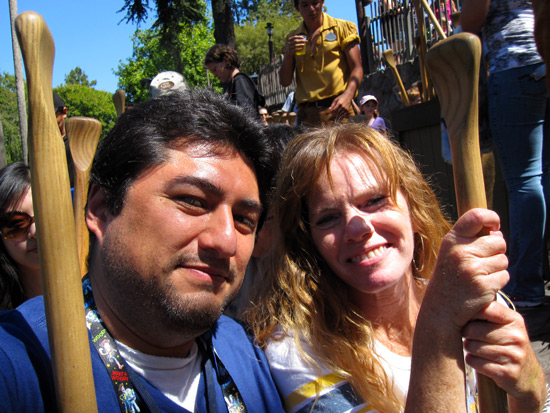 So we headed out to the paddle boats and splashed around those and the bolted out of the park to hit the road. But not before I had a churro.
Because Disneyland churros are the BEST churros Iíve ever tasted. Something about being at Disneyland that makes those churros dance in my mouth. SO good!
The Girl then dropped me off at work, she went to see a movie with her daughter while I worked my shift. Which was awesome because my dummy co-worker was sent home because sheís still over her allotted hours. It sucked to be here because she drove over and was told she couldnít stay. I thought our supervisor should have just said stay and donít come back the next week and the week after that to make up for the time. But no, he sent her home. She slinked away, and I had one of the best shifts Iíve ever had at work. Got everything done, and didnít have to worry about co-worker slowing me down. I think last night showed my supervisor who the dead weight is. LOL
Anyway, The Girl picked me up after work and then we had a little fun before we called it a night. All-in-all a super fun and jammed packed day. One I wonít soon forget.
End Communication.