A year ago TheGirl and I had dinner together at a bar in Glendale named Jax. We were just friends then, a couple of friends hanging out. But really that was the foundation for the relationship we have today. We both liked each other, but we didnít show it that day. Today we hung out, spent the day reminiscing, and enjoying each otherís company. Here are a few pictures.

* * * * * *

This first one was taken at the Universal Studios metro station parking lot. We spotted the Google Maps car, and I couldnít resist having my picture taken with it. Hereís a close-up of the hood.
* * * * * *
Speaking of Universal, we went up there to eat at Jody Maroniís. Weíve been talking about eating there for a LONG time. More than a year actually. But, every time we would go up to CityWalk we never did. Well, this time we did.
I had a Chicken Andouille sausage (pictured below), with a bunch of onions and peppers on it. I only picked that one because I was showing TheGirl a video of a guy named Justin Wilson. He had a cooking show on TV a while back, and he mentioned andouille on the video I showed TheGirl in the morning, so I tried it.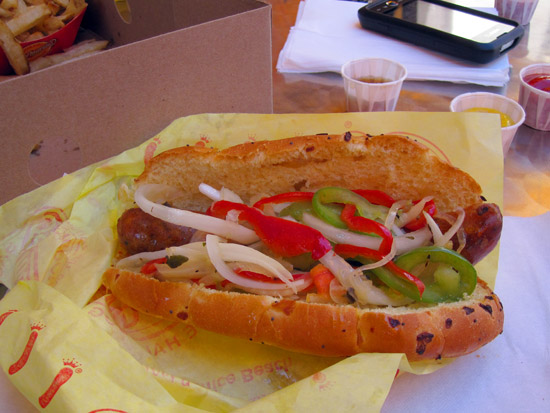 Hereís TheGirl eating some fries.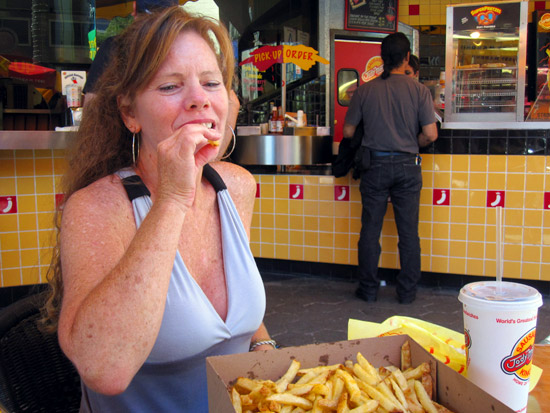 * * * * * *
Later we were walking back to the shuttle when we saw a cute little dog with shoes on his/her feet. Well, in the time that it took me to get my camera out, the dog started to pee. So hereís the dog, cute shoes, and pee.
Our anniversary is quickly approaching. Last night I bought TheGirl a present. I might buy her something else, but I know she will like this gift.
On another note, Friday was the one year anniversary of my iPhone 4. In that time Iíve taken 8426 photos with the camera. Thatís a nice number, I think. Thatís an average of about 23 photos a day. Pretty good.
End Communication.