Today TheGirl and I went to watch a taping of the show Ellen.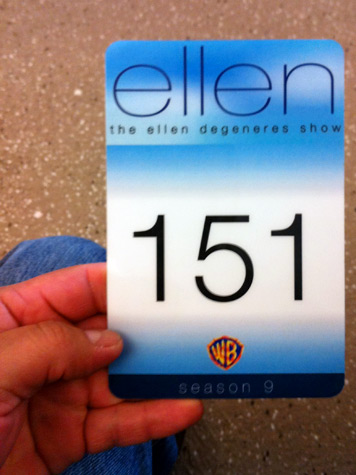 Now Iím not a huge fan of Ellen, but TheGirl wanted to go check out the show with me. She went last month with her daughter and they gave her tickets for this month. So why not check out the show, which was the Valentineís day show.
I had a good time moving to the beat. But by the end of the show I was pretty pooped, what with having to cheer loud and clap. By the time the show ended I think most of the people there were wilting. I know I was. But still, a good time was had.
* * * * * *
Before going to watch Ellen I had to deal with my busted car. I took it to the auto body shop to get an estimate and get the repairs started. Iím driving a rental car right now. When given the keys I was told that I wasnít supposed to smoke in the car. But the first thing i noticed upon entering the car was the smoky smell. So yeah, that rule isnít followed. Damn smoky bastards!
I hope to get the car back by Friday. I want my car back.
* * * * * *
Saturday TheGirl, her daughter, and I went down to Chinatown for a little walking around day trip. It was fun to walk around downtown after so long. By the end of the day I was completely beat. TheGirlís daughter didnít seem to happy at the end of the day. I get it, itís not that fun for a teenager to walk around and see the sights. They want to do something fun. I like going to museums and parks and stuff that Iím sure the average teen would find boring. TheGirl apologized for the fact that her daughter has cock blocked us. I donít mind, because Iím not just in this relationship to have sex. Yes, I really enjoy making love to my girlfriend, but I also enjoy hanging out with her. The other night we made dinner together, and that was like this wonderful little moment where we were all working on a common goal. We made a good team. Itís a moment of transition. She isnít happy that she has less freedom, and we canít be intimate as often as before. But I donít mind.
* * * * * *
Lastly, I fucking hate Ralphís for their deceptive price labels. I think Iíll never shop there again. What happened is that last night on the way home I went to Ralphís in order to buy my aunt some milk. But I also wanted some booze. The price that was bigger than the other prices on the tag was $20. But that was only the price if I had bought six bottles of booze. I mean come on! The price per unit is so tiny that in my hast I missed the price. I ended up paying $30 for a bottle of Jamesonís that I thought would cost me $20. I was too embarrassed to say forget it, so I spent $30 on a bottle of booze. It totally sucked. But, I also didnít balk because I knew that it was cheaper than going to a bar and buying a couple of drinks. So yeah, good times. But Ralphís, Iím done with you.
* * * * * *
Lastly... I will have my photos on display starting March 1st at an Eagle Rock restaurant called The Coffee Table... located on Colorado blvd. Iím hoping to make a few bucks by selling my prints. if youíre in Los Angeles, specially Eagle Rock, drop by and buy a print. Not in Los Angeles? Go to my photo site and check out my photos. If you like one of them, and want to buy a print, you can either buy it from my linked site, or email me an order. Hereís the link: http://vistadrive.org
Booze makes me feel good. I had a few shots of my overpriced booze tonight. Tomorrow is Valentineís day. I gave TheGirl a card. I should say I made a card on my iPhone and then sent it via an app to her mailbox. I am totally in love. Itís a wonderful feeling. Itís a wonderful thing. The next few months before she is officially divorced will not be easy, because sheís going to have to deal with some crazy stuff. But I know weíll make it through this because I love her, and she loves me.
End Communication.