Today was all about getting ready for TheGirlís arrival tomorrow. I wanted to get her some flowers, so I took a trip down to the Los Angeles flower market downtown.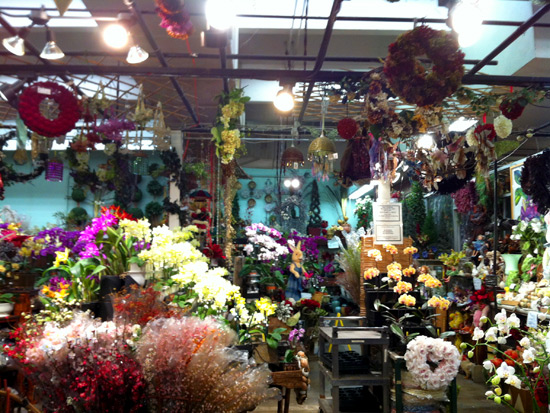 The place was pretty big, but not all the booths were open. But after giving the place a quick once around I found the lilies I was looking for. I got her a couple of bunches, and then went off to Glendale to put up a banner at her place and arrange the flowers (as seen below).
I wanted to get TheGirl some balloons, but I didnít get a chance because I had to come back home for dinner to send off my cousin back to Mexico with her fatherís body. Iím not sure if I wrote it here last time, but my auntís uncle passed away last week. This entire week has been filled with dealings pertaining to his death. One of his daughters came in from Mexico to deal with the arrangements. So we decided to have a quick dinner to send her off with some good thoughts and well wishes.
Hence me not having time to get everything ready for TheGirl and run my errands before the early supper. But, I think tomorrow before heading off to the airport Iíll pass by and get some balloons at my old store.
These ten days since she left have moved quite slow. The last couple of days went fast, but before that it felt like she would never return. Ten days represents the longest we have been apart since the beginning of our relationship. Even the two break-ups didnít last more than a week. I wish she was here for St. Patrickís day, but oh well. Next year.
* * * * * *
Last night was socially filled with a quick dinner with my homeless buddy Dane, and then drinks at The Coffee Table lounge with my model/co-worker Arpine. First stop was Rallyís in Glendale.
Dane had given me some coupons for Rallyís, and since he was kind enough to share three of his sandwiches when I said I was hungry earlier this week, I figured that I would treat him to dinner at Rallyís. The food was passable. Nothing that great, but not bad considering itís fast food. The highlight was the seasoned fries, which are much like the fries served at other fast food joints. The only thing Iím sure to return for are the hot apple pies, which were like the old McDonaldís apple pies... fried. The added touch of cinnamon only enhanced the taste. Iím sure to return for those. I miss the old McDonaldís apple pies, and Rallyís has them.
After dinner I met up with Arpine and her boyfriend at The Coffee Table for her to check out my photos. It was the first time we had done anything that would be considered social. Her boyfriend seems like a nice guy, but what do I know. Ha!
Tomorrow TheGirl arrives! Woo Hoo!
End Communication.