This weekend was filled with good times. Usually on Fridays I work as a Page at the library. This week they asked me to cover one of my fellow driver's shift. I was glad to do it, because it means more money in my pocket. And who doesnít need that these days? The work day was pretty easy. So easy I nearly finished ahead of schedule. But I slowed it down a little, because itís not a good idea to show the boss that I had it easy. Even though I know my co-worker has it WAY easy on the route on Fridays. All-in-all a great day at work, mainly because I was out of the office nearly the entire time.

After work TheGirl and I had plans to have dinner and drinks with a mutual friend/co-worker, Arpine. Arpine posed for me last year. But before we even got to go to dinner TheGirl had a surprise for me. She went ahead and leased a new car, a Chevy Equinox that she has named Dharma (pictured below). She felt she deserved it. I hope it doesn't break her bank.
TheGirl had apparently been wheeliní and dealiní with the dealer and the whole thing finally came to a head, and she went ahead and leased the car. The car is nice, and feels quite roomy. She drove me me around the block before Arpine showed up. She isnít sure the car wonít break her bank. Itís nuts because she isnít even sure what the insurance is going to cost her. I hope she did the math.
After the big reveal the three of us, TheGirl, Arpine (pictured above), and myself, went out for dinner and drinks at Damonís in Glendale. A place TheGirl had been promising to take me for the longest time. The food was pretty good, though I can't really say since I had so much booze in me. A good time was definitely had. Our good time will hopefully begat more outings with Arpine.
* * * * * *
I had been mentioning going to The Getty Center with TheGirl nearly since we started our relationship. Nuts... but we finally made it up there on Saturday, in order to check out the Herb Ritts photography exhibit. Last time I went to the Getty the photo exhibit left me feeling down, because it was so terrible. This exhibit was quite good. I expected it would be, what with a photographer the caliber of Ritts having his work showcased. TheGirl liked it, and despite being a little tired had a good time. Hereís TheGirl and I at the Getty (pictured below).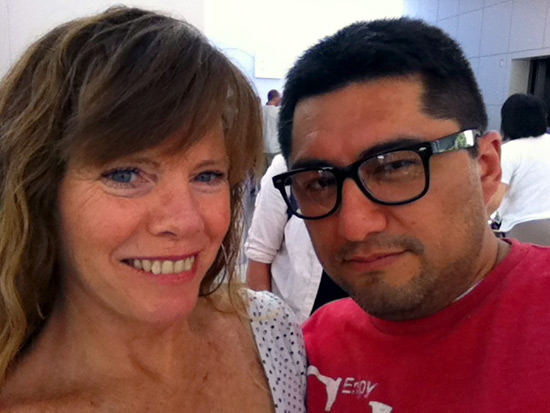 The reason Iím wearing glasses is because I found these pair of fake glasses and decided to wear them the rest of the day as a goof. I thought they looked pretty funny. TheGirl thought I looked ďhandsome.Ē But she always thinks I look handsome.
After The Getty Center we drove down to 3rd Street in Santa Monica in search of a good meal. But everyone in Los Angeles seemed to have the same idea, and 3rd Street was completely packed. The restaurant we went to was completely packed. I quickly used technology to find a restaurant that was highly rated and was close to where we were. Oh, and that served margaritas. Turned out there was a place named ďEl IndioĒ near my old school, Santa Monica College, that was supposedly good. This according to the reviews on Yelp. So we drove there, only to find they only took cash. Stupid me didnít scan the review that clearly said they only take cash. Neither of us had any after paying for parking at the Getty. So, we drove to the nearest ATM and withdrew some cash. TheGirl and I then went back and had margaritas and some Mexican food. The food was passible, but certainly not bad. It would seem that every place in this city has the same Mexican food. I miss my Grandmother's cooking. It would be great if I could tap her mind and get those recipes and open a restaurant serving her food. All my friends loved her cooking. The day ended with TheGirl and me watching the first half of "Citizen Kane." Good times, indeed.
End Communication.