Well, I'm flying solo this weekend. It's something I'm not accustomed to these days since most every weekend I spend with TheGirl. But this weekend she "ditched" me to hit all the Los Angeles tourist spots with a friend of hers. Which is fine, but it has me feeling left out. Especially since last night she didn't send me our "traditional" good night txt message. It was just another nail in the coffin that was my week. Let's recap why this week sucked big time.

Wednesday was the only good day of the latter part of my week. TheGirl and I had plans to go to Disneyland to celebrate the anniversary of her daughter being asked to be exclusive to her boyfriend. We made plans weeks ago. But then the weather forecast was for rain. So TheGirl and her daughter went out and bought some ponchos for all of us to wear. Here's TheGirl modeling one.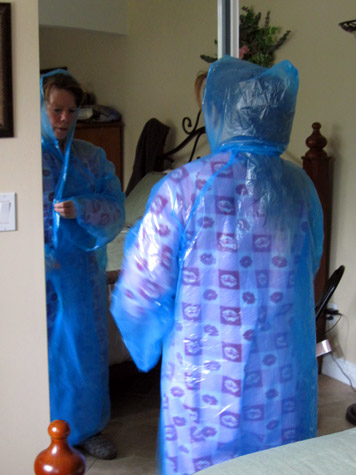 I love going to Disneyland in the rain, and I convinced them not to postpone the trip. Especially since I had asked for the day off from work, and losing money and then NOT going to Disneyland seemed like a total waste of a day. But, thankfully it didn't rain but a couple of drops the entire day.
TheGirl and I went off on our own, and got on a bunch of rides because there weren't any big crowds. We went to an attraction in DCA I had never visited before, some sort of "nature trail" thing that turned out to be the most fun of the day. Here we are in front of a "waterfall." The lady who took our picture totally cropped this picture wrong, by the way. I gave it a closer crop.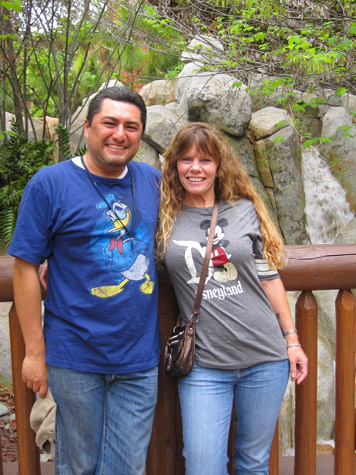 The "trail" has rope bridges, which were super fun to cross. Here's TheGirl bouncing as she crossed one.
We also went on Toy Story, and I got my best score ever!
I'm a big chicken when it comes to roller coasters, so I didn't join TheGirl on her ride on California Screaming. I just took her picture. And she posed with an over exaggerated wink (as pictured below).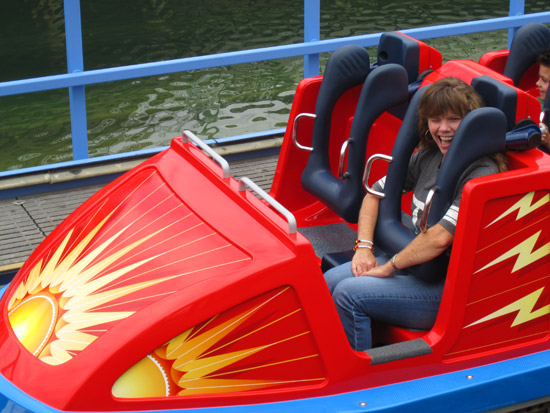 The rest of the day we reserved for Disneyland, and we visited the petting zoo (pictured below).
As well as the "secret" pet cemetery at the Haunted Mansion (pictured below).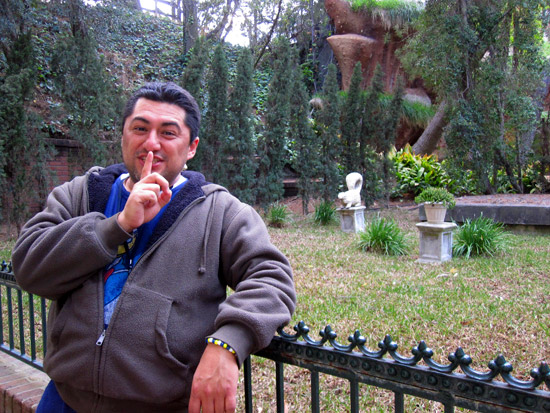 And of course we had to ride Space Mountain... because the wait was only 10 minutes!
While in Space Mountain we saw another patron pull out $1,000 and try to hand it to a cast member so he could get his wheelchair bound wife onto the ride. TheGirl pointed out that the patron was sauced. So much so that he was dropping fifty dollar bills on the floor without even noticing what he was doing. Crazy.
The day was quite perfect, as nearly every day with TheGirl.
* * * * * *
And then came Thursday, and the start of this horrible part of the week. I drive the delivery van on Thursdays, and in nearly a year I haven't had to deal with delivering the books in the rain. Until this Thursday. It turned out to be a perfectly bad day, because stupid me hit a parked car with the delivery van. Not just any vehicle, but one belonging to a firefighter. I smashed the rear driver side door pretty good with the large van (as pictured below).
I had to call work, and had to call the police and make out a report. It was awful, and I felt ultra stupid for the accident. It has spawned a headache that I've had since that moment on. My supervisor says not to worry, it happens to everyone. But I still feel bad. They took it better than I did. They won't have the accident on their record either.
And then today I wanted to go to LACMA and check out one of their special exhibits. But my aunt wasn't feeling well yesterday and took herself to the emergency room at Olive View where they determined the pain in her side was most likely a pulled muscle. Actually, I told my aunt Friday morning that it might be a pulled muscle, but she still felt a need to go to the emergency room. Believe me, I wasn't going to stop her. What if I was wrong? I'm not a doctor. But yeah, she was there the entire day, until nearly 1am this morning. I didn't go to sleep until 2am, and then woke up early in order to take her to work this morning. Compound that with the feeling of being "ditched" by TheGirl today because she's touring a friend of hers around town, and I'm pretty down.
Tomorrow TheGirl and I are having dinner. I debated whether to bring this feeling up to her, but then thought better because I think that I'm making a big deal over nothing. So what if she didn't even consider if I wanted to tour around town as well. So what if I wonder if she's ashamed to introduce me to her friends. So what if she didn't actually come out and tell me that she what she was doing this weekend, just mentioned that I wasn't invited to sleepover this weekend. So what. I'm going to pick up my aunt in a little while, and then have some food, and then some booze. I think I deserve that after the last few days I've had.
End Communication.