First trip back on the delivery route since last weekís run-in with the firefighterís car. I was kinda afraid that the firefighter was going to come out and say something like, ďGood job, idiot.Ē But it didnít happen.

Iím pretty tired right now, so I probably wonít make this too long. There isnít really much to report tonight anyways. This week has been pretty much a standard week at work. No more crashes. Ha! Tomorrow night TheGirl is going to Disneyland with her daughter and Iím going to meet up with her for dinner afterwards. Good times. But, the only problem is that I have a favorite place to eat at Disneyland, and lately we havenít eaten there. Probably a good idea in the long run, but at the same time itís the best meal consistently that Iíve had at Disneyland. And itís pretty inexpensive compared to other places to eat. Iím talking about The Hungry Bear in Critter country. Itís very likely that weíre going to end up at Pizza port, which is actually one of my least favorite spots. Iíve scoped a couple of other meals near there so I can just walk over to Pizza port and eat with TheGirl and Withanaye (thatís the daughterís nickname here now).

* * * * * *

TV channels do something that I think is kinda silly, and actually pointless. They still set-up graphics on the screen for 4:3 legacy TVs, which are the old TVs we used to watch. The aspect ratio for HDTVs is 16:9, which is more rectangular. But I guess TV stations still think that a large enough portion of the audience is watching on the old 4:3 ratio TVs that they put graphics on the screen that can still be seen on the old TVs. But this sort of thing causes problems in the new 16:9 format at times. Case in point, tonight there was a story about a K-9 dog, aka police dog, that passed away. The news had a picture of the ďheroĒ dog and their graphics pretty much made it look like the dog was in hiding (pictured below).
Now I ask you, didnít anyone at the station see this was a problem? I guess not, because it went out on the air like this. Why the source citation couldnít be on the bottom of this picture is beyond me. Either way, it goes to show you that there are people who simply go to work and donít really care anymore. And, that no one is minding the store.
* * * * * *
Lastly, Crockett reached the 17,000 mile mark last week, but today the milage hit a neat looking number... 17171 (pictured below).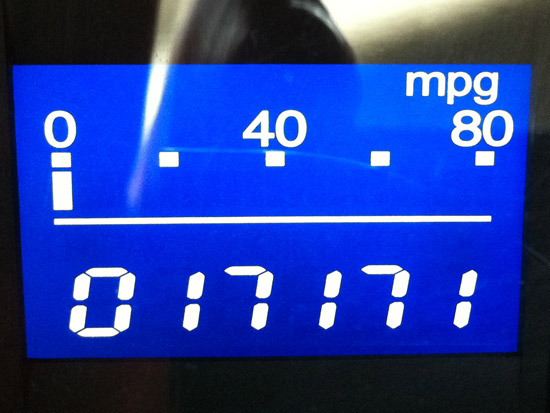 More when thereís something actually going on. Perhaps after this weekend. Oh, I am writing these days. Iím taking my notes and actually doing some writing. Letís see how long this lasts.
End Communication.