I went to Disneyland last night. How that happened is that I received my upgraded pass yesterday in the mail.

The day was pretty terrible because of the heat. I ran a couple of errands, and was foiled when I tried to get some new jeans at the army surplus store. Apparently theyíre on vacation. Oh well, I thought, I guess Iíll just go back home. But I hadnít had anything to eat, so I stopped off at Mickís Subs and had a meatball sub.
Nothing special, but it stopped the hunger pains. Then I went to a store next door to see if they had jeans. They had some terrible off brand jeans that cost like $15. Thatís OK, Iíll wait for my 501ís. I took Ventura home, instead of speeding down the 101 because I was really in no hurry. Upon arriving i checked the mail. Something I rarely do these days since Iím almost never home before my aunt arrives. Earlier in the week I reminder that my pass was about to expire, and that I should renew it. So I did. And here was the new pass, in less than a weekís time.
My co-worker Tera mentioned earlier in the week when we were talking about annual passes, that she was planning to go on Saturday to check out her boyfriend. Her boyfriend works at the park. Remembering that I wondered if I could go. On the bottom of the paper sent with the pass it said I could use it immediately. So I called Disneyland to make sure I ďcouldĒ actually go. They said yes, I sent Tera a txt and away I went.
I arrived a little after 5pm, making a beeline to Radiator Springs Racers. The single rider line gave me no indication as to how long I would have to wait. But thankfully the wait was less than 30 minutes. Here I am sitting in one of the vehicles.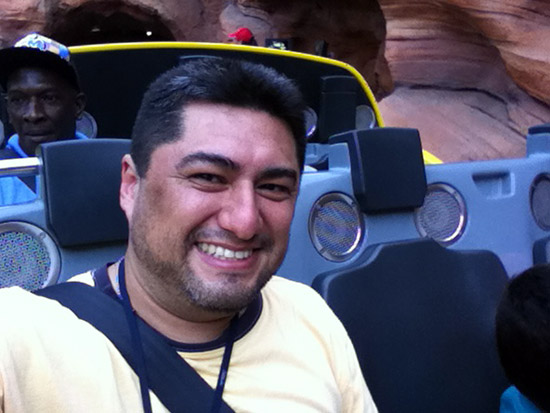 Hereís a shot of the attraction.
The detail is extraordinary. This is one of Disneyís best jobs. The whole new Buena Vista street is also awesome. The old entrance was cheesy, and looked really cheap. This street is worthy of a Disney park. It reminds me of Main St, only in the style of the late 20ís early 30ís architecture. The level of detailing is much better than the old DCA entrance.
Finally Tera arrived and we went to the Mad T party stages to check out her boyfriend play in a band.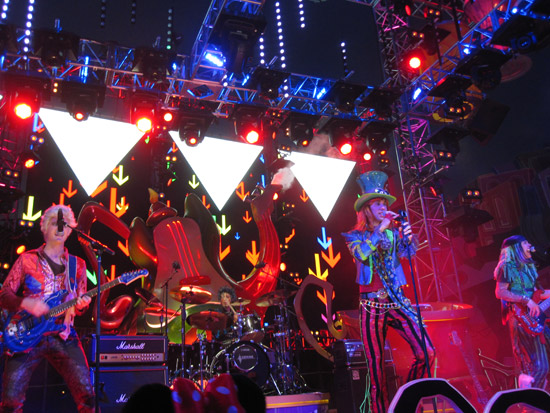 The band played really well, and a good assortment of music. The girl playing ďAliceĒ was cute, and I wondered if she was the girl that came into the library just the day before. She wasnít, the one that came into the library was taller.
The night ended with Tera and I parting ways and telling each other that we should do this super often. Since TheGirl wonít be in my life much longer Iíll need a new Disneyland buddy.
Oh, and that line about TheGirl not being in my life much longer. I intend to finally walk away from this woman and her fuck-buddy deal. I know I wonít be getting much, if any, sex for a while. But this weekend is yet another example of how I canít trust a thing she says now. I gave her all my trust, wrapped it up with a bow. For a long time she didnít do anything to take away that trust. But since TheChisel has entered her life she has found it easy to lie to me. Easy to hurt me. Easy to say one thing and then not. Like for instance. She said that Saturday on the way back to Los Angeles TheChisel wouldnít be in her car, so she would give me a call. Did I GET a call yesterday? No, I didnít. And tomorrow when I see her sheíll have an explanation. But today and this whole weekend she put me on ďradio silenceĒ again because TheChisel canít know about me. I love TheGirl, but I canít go on like this. The only way we will remain friends if she stops communicating with TheChisel. I know thatís not going to happen, so I have to walk away. Because the last three months of my life have been horrible because of this woman.
Iím not in love with her anymore. And now the hold is purely sexual. But thatís not entirely true. I have an emotional connection with TheGirl and Iím allowing to cloud my judgment. In the long run this ďrelationshipĒ is broken. And we canít remain friends.
End Communication.