Saturday TheGirl and I went to the Getty center to check out a Mapplethrope exhibit. A couple of weeks ago TheGirl and I went to LACMA to check out the Kubrick exhibit. While there we checked out the Mapplethrope exhibit as well. TheGirl fell in love with his work. I told her that the Getty center also had an exhibit of Mapplethrope photos, so we went to check them out. It's a shame that EVERY time I go to the Getty to check out some photo exhibit that I really want to see that it's relegated to a small corner gallery and usually contains not more that a couple of dozen pictures. I mean come on! The LACMA Mapplethrope exhibit had more than that in the same space. TheGirl and I commented how the exhibit was so tiny, and we know that in the basement they have a ton of pictures just sitting there. And meanwhile there was another exhibit of photographs with dozens of so-so works. I liked some of them, but TheGirl didn't like any of them. She said that they just didn't move her like the Mapplethrope works did. I agree.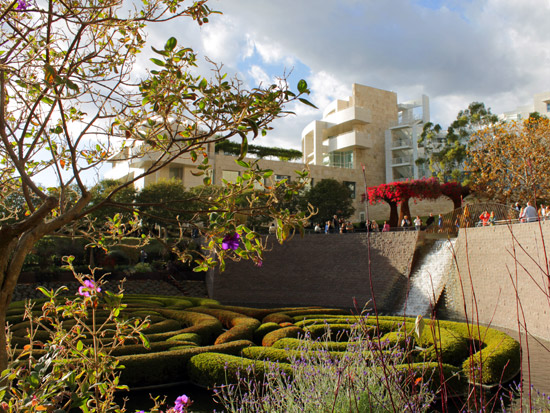 The weather was so perfect, as you can see from the picture above taken in the Getty's garden. It's super nice to go up there after it rains to see the entire view of the city. It was so clear we could see the cranes in San Pedro. After the museum we went to eat at Pink Taco, a restaurant that TheGirl has been wanting to check out for a while now. The food was pretty dang good. Not the best I've had, but up there. Of course the hostesses are near perfect looking girls. I commented to TheGirl that they must only hire hot girls to host since the name of the joint is pink taco. Our waiter was super laid-back, so much so that he forgot to bring us our order of guacamole. Thanks dude. But, while I went to the restroom TheGirl told him that it was my birthday. Sure enough, I show up and the waiter is bringing me an order of churros. They were yummy. We had a good laugh.
* * * * * *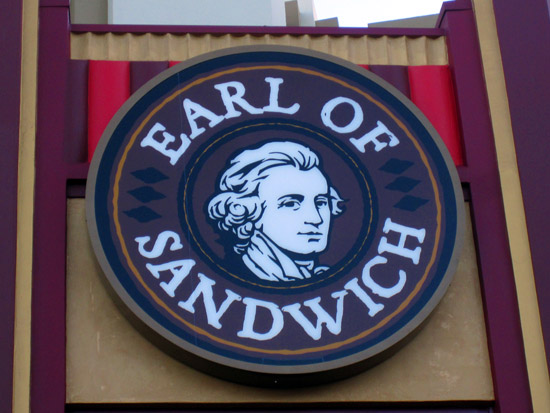 About a week and a half ago my homeless buddy and I tried to get a sandwich at the Earl of Sandwich in downtown Disney. Well, I mentioned the sandwich shop to TheGirl, and today we went down to check it out. The line in front of the restaurant wasn't as long as the last time I was there. The sandwich was pretty good. Not wait an hour in line good, but good. I'll certainly be back. Here's what it looked like.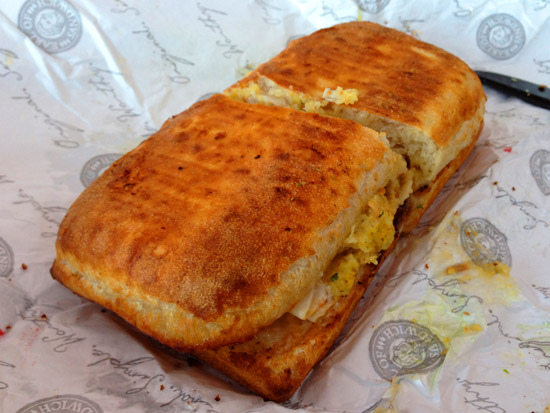 I really liked their version of an Arnold Palmer, made with Earl Grey tea. Nice! While at downtown Disney I saw a super cool Donald Duck jacket that I SO wanted. I can't afford it though. I nearly bit the bullet and bought it anyway. But having just paid a couple of big bills I thought better of it.
* * * * * *
TheGirl and I took Chandaka out on our trip to downtown Disney. He likes waving at people. Here he is waving at someone.
And here's the kid's reaction to Chandaka waving at him.
As TheGirl said... priceless. Chandaka is a cute monkey. We have a lot of fun taking him out and having him wave at everyone that passes by. We have a good time.
End Communication.