Started work late today, which was a good thing since my Aunt and Uncle from Mexico wanted to go visit my Grandmotherís grave. If I didnít take them today they wouldnít be able to go Thursday, and they leave Friday. So, hereís some pictures.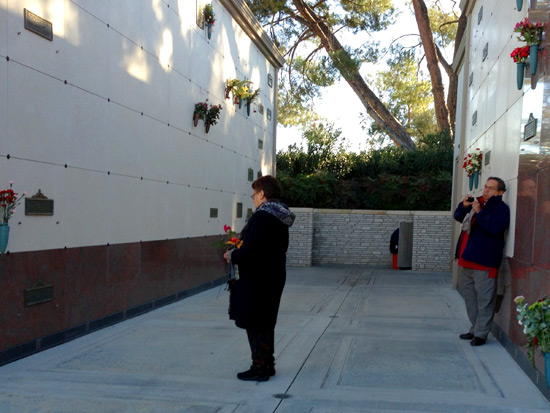 Aunt and Uncle at my Grandmotherís gravesite
Afterward we went to Bobís Big Boy in Toluca Lake.


I had the famous double decker
* * * * * *
I dropped them off at the bus because I had to get going to work. Then tonight we had a send away dinner when my Uncle discovered how much he loves my iPad.
Heís gonna buy one tomorrow. Actually, Iím scheduled to have dinner with TheGirl after work, so I plan on going to the Apple store and buying him the iPad mini that Fryís didnít have in stock today.
Speaking of TheGirl, hereís an exchange we had today. I figured since she told me the other day that she is going to give a relationship with TheChisel a go he needed to now be addressed as the boyfriend. Hereís how the exchange went.
Me: he needs new nickname now -TheBF

TheGirl: BS

Me: that's what he is, silly

TheGirl: Nah. He's a bullshit artist.
I just donít get TheGirl. If she doesnít trust him, and/or thinks heís a bullshit artist then why consider pursuing a relationship with him? Your guess is better than mine. All I know is that I have to give myself permission to pursue someone else. My wheels are stuck in the mud.
End Communication.