So I took myself to Hearst castle this weekend. Yes, by myself. I have made up my mind that despite not being in a relationship I am not going to sit around and let moss grow on me. I mentioned this idea before. I did a lot of good traveling with TheGirl, but now Iím left to my own devices. Just because I am doesnít mean I canít travel. I almost went to Yosemite instead of Hearst, but decided on Hearst because of the night tour that I heard was pretty swell. It was a haul, but the tour was worth the drive. The drive up was actually quite quick. Maybe because I was on the phone for about 1/3 of the time talking to a pair of friends. Thatís what makes traveling alone hard. The drive back today felt longer, and lonelier, which it was since I wasnít on the phone with anyone.

Saturday I got on the road just before 9am. I had to top off the gasoline tank before heading out. The car will easily make it up to Hearst on about half a tank, but thatís exactly what I had in the tank. Not a good idea to get stranded up there. The trip up was uneventful. I stopped in San Luis Obispo to top off the tank again and then headed up the 1. My check-in time at the hotel where I was staying is 3pm, and by the time I arrived in Cambria it was barely past 12:30. I knew I wanted to get some food before heading out the the castle and the hotel, so I wanted to stay close to Cambria. Thankfully one of my co-workers told me about a place right at Cambria called Moonstone beach. There is no sand to speak of on the beach. The ďsandĒ is actually tiny stones about as long as rice grains, but about two to three times as fat. Hereís a picture.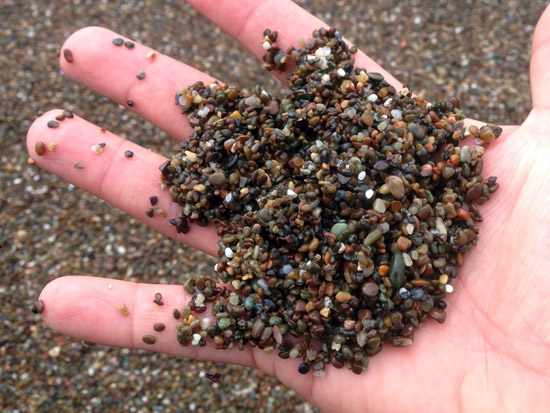 Moonstone beach proved to be a very pretty stop on my sojourn to Hearst. I took some really nice black and white pictures of the shore and the waves coming in. So nice I am going to save them for the photo section of my site. But, just so you donít think Iím holding out, hereís one of the shore at Moonstone beach.
And hereís a more close-up view.
The stones feel funny to walk on. And my feet felt like they were sinking in all the way down. Hereís a picture of my feet in the ďsand.Ē I took it with my fisheye lens, hence the distortion.
* * * * * *
After the beach I headed into Cambria to get some food. The same co-worker that told me about Moonstone beach also told me about a great little restaurant called Linnís. I tried it on my first trip to Big Sur, but then on the second trip I discovered a little place behind Linnís thatís called Linnís Easy as Pie Cafe. Itís the same company, but different food. But the food is really good, and less expensive than the sit down Linnís. Iíve yet to have a bad meal there at either.
The other day a co-worker of mine asked me what I would have for lunch if I could have anything. For some crazy reason I had meatloaf on the brain, and I said meatloaf. But for some reason I had not only meatloaf on the brain, but mac & cheese, along with a shake. Well, when I saw that Linnís cafe had a meatloaf sandwich I ordered that.
See... see how yummy that looks! What it is, actually, is a meatloaf club. A twist on the traditional club sandwich in which meatloaf is the meat rather than the usual. I didnít notice until later that they had mac & cheese, so I ended up ordering a side of potato salad. I was starving, and I ate the whole thing.
* * * * * *
Following all this I finally got around to checking into my hotel, The Morgan. Which is just a few miles from Hearst, and that was a good thing because I didnít want to drive back home in the darkness that is the 1 highway at night. I think I might be a little paranoid about it, now that I have driven that short stretch from Hearst to Cambria last night. Anyway, my point is the hotel. I checked in and they told me that my room was in the building two doors down. Two? Yes, in between the main lobby of the Morgan is a restaurant, followed by the other half of the Morgan. It wasnít too bad, it just threw me off at that moment.
My room was rather nice. Actually, now that I have been around a bit traveling itís kinda a standard room. I paid total with tax $120 for the night. Not as cheap as say Motel 6, for example. But the last couple of times Iíve stayed at a Motel 6 it smelled like smoke, despite supposedly being a smokeless room.

They gave me a room with two beds. I did invite a couple of people including my buddy Jon, this crazy girl from the library that Iíve wanted to sleep with since before I knew TheGirl, and I think I threw another invite at some random people. Lastly I asked TheGirl just as I was leaving yesterday if she wanted to come. Supposedly she would have if she didnít have plans to go on a hike. BS, hikes can wait. But whatever, I had a good time on the tour. Speaking off....

* * * * * *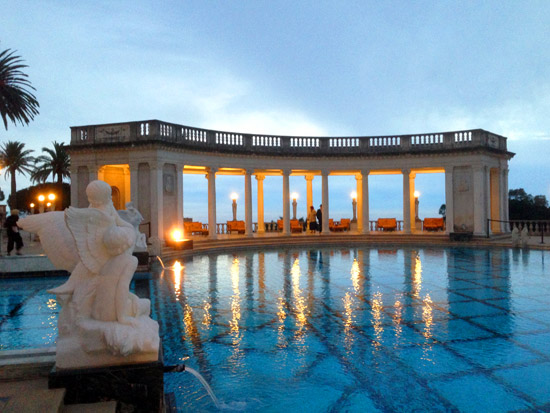 The tour started at the Neptune pool, pictured above. The lights and the ever darkening sky really makes this picture pop for me. I went to Hearst when I was a kid, and back then the pool looked ginormous. On this trip it looked diminutive somehow. Itís a big pool. Way bigger than any pool Iíve been in. But in my memoryís eye the pool was bigger. Than again, back in my youth everything seemed bigger.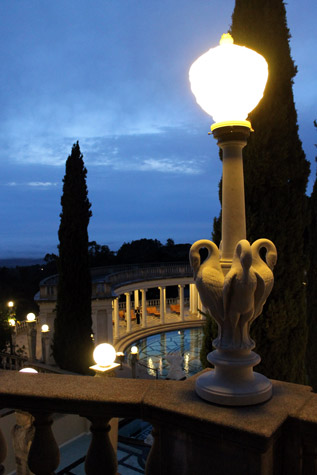 Following the pool we went into one of the guest houses, the house originally used by Hearst before he built the big house. Hereís a picture of his sitting room.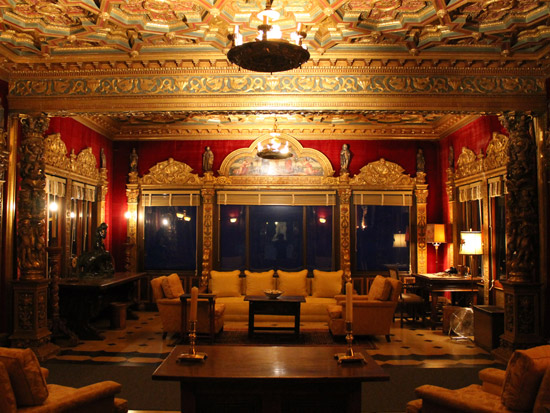 Then came the walk to the main house, the reason why we all come on this tour. Just outside the guesthouse is this replica of the Three Graces. It looked nice with the glow of the lights.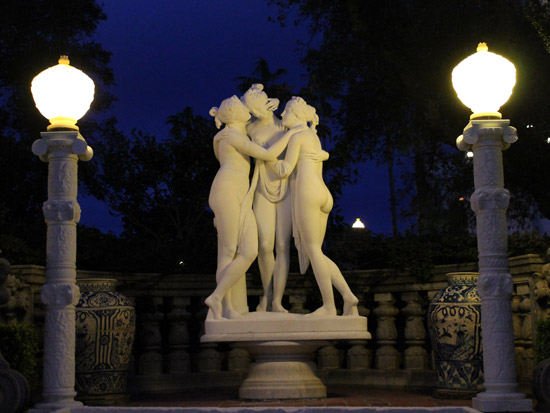 Then, like I said, the castle. Here are some pictures. Iíll let them speak for themselves.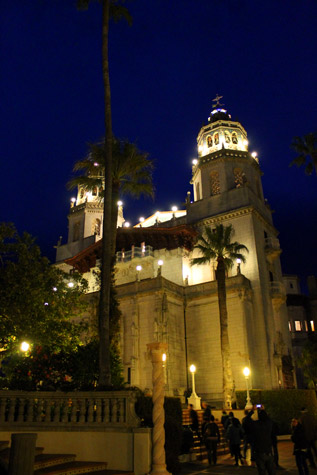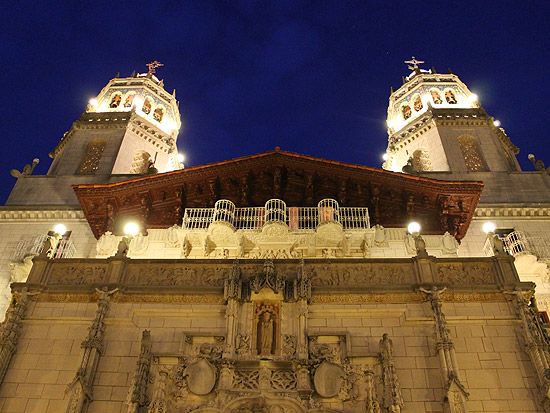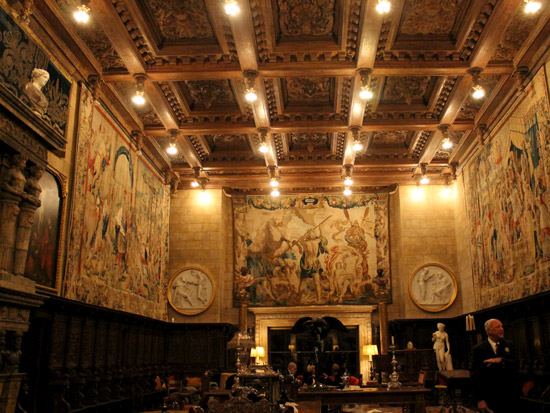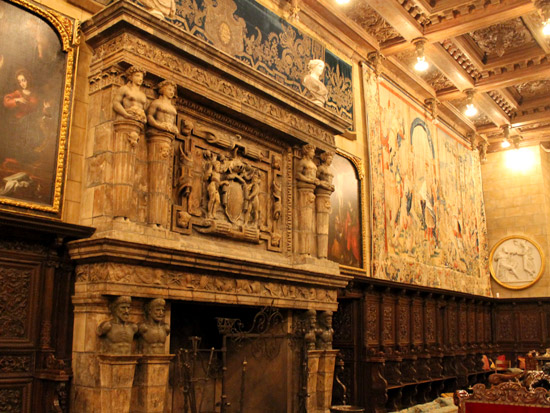 And then came the last stop on the tour, the indoor pool. That was as I remembered it, only better because it was at night. The last time the outside light didnít allow for the lights to really catch the water and shimmer.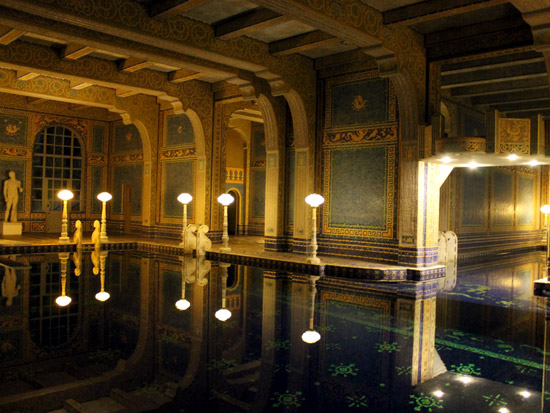 This was the highlight of the tour.
I probably wonít be back to Hearst for a while, or perhaps Iíll be there next month with my aunt and uncle. The night tour was something I really wanted to do, because it is unique. It is something different that I can say I did. Thirty nine days until I drive past Hearst on my way up to Big Sur.
End Communication.