Well, tomorrow marks some significant events. It's my pseudo-boss' last day at the library. We came in together, but she's leaving for better shores. I gifted the library a pair of photos I took. One five years ago, and one this year. They are our "class pictures" you might say. To be exact they are our employee pictures. I gave them to Ann and she framed them. Here they are in the staff lounge.
The other significant event is a the number of days till my third trip to Big Sur is down to thirty. One month! After that I have to start planning on when I might be able to head up to Yosemite, or Big Sur again. I definitely need to explore the Southern portion of Big Sur.
* * * * * *
Time for the random stuff... first an observation when I was at home trying to find a place nearby to have dinner with one of my buddies. Apparently I'm less than half a mile from Hell. This according to Four Square (pictured below).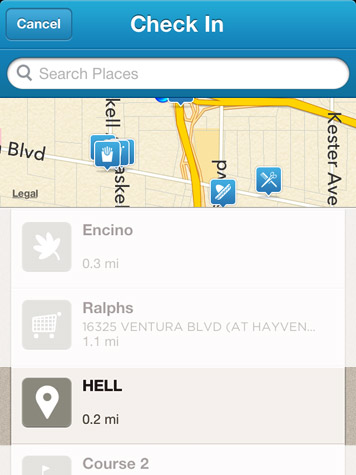 I'll have to check it out some time.
* * * * * *
Saturday I hung out with my buddy Vagabundo. We had plans on going to check out the Space Shuttle. But when we arrived the parking attendant told us that not only was the museum closing in less than an hour, but that the shuttle exhibit was closed that day. So even if we did try to rush over there it would be mute. Before going to the museum we were across the street getting some food. The both of us didn't really get much in our stomachs and we were getting hungry. We don't know any of the restaurants in the area, but thankfully we found a good place right close to the museum. And thankfully Four Square gave me a discount on my first visit. Woo! Two whole dollars!
The cheesesteak was pretty dang good. The onion rings made the meal for me though. Super good.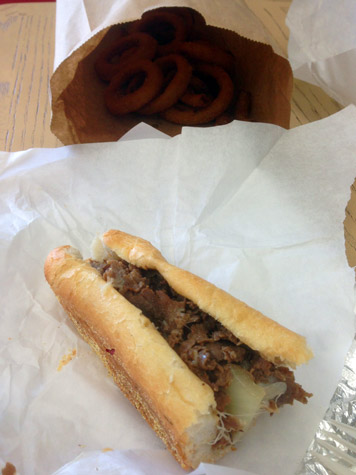 * * * * * *
Our toaster oven died earlier this week. For some reason my aunt refuses to use an oven that my cousin gifted us a couple of years back (pictured below).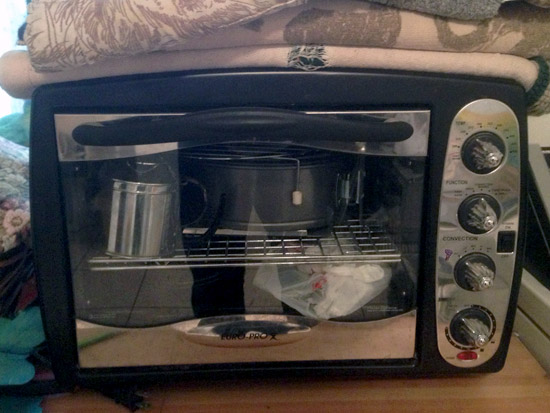 Instead she has this tiny little toaster oven in the kitchen.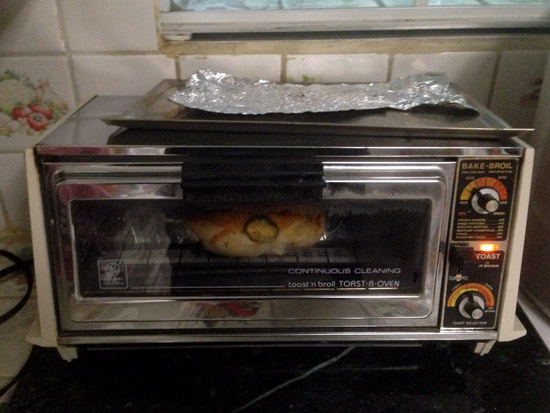 * * * * * *
Today I worked from 9am to 9pm. I worked my regular shift and also an event at the library. The bucks are nice, but these hours surly contribute to the fact that I still have a cough from that cold I got over three weeks ago. I have plans.
Wow, the whiskey really hit me right now. Time for bed.
End Communication.