This past weekend I went away to Big Sur. †Iíve been anticipating this trip since TheGirl first proposed going to Big Sur back in January. †This year has been speeding by, almost as if it was speeding by just so I could visit Big Sur sooner than later. †The weekend didnít go fast, thankfully, but there still wasnít enough time to do everything we wanted to do. †But thatís why there are other trips.

Day one was travel day. †We left my place at exactly 7:11am. †I note that because TheGirl pointed it out to me just as we pulled out of my driveway. †Our first stop turned out to be the Madonna Inn just outside of San Luis Obispo.
There we had breakfast. †We needed to fuel up since we were planning on hiking the Salmon creek trails on our way up to the middle of Big Sur. †Our second stop was the Salmon creek, where I was told there was a beautiful waterfall. †Waterfalls are all I want to see when I go hiking.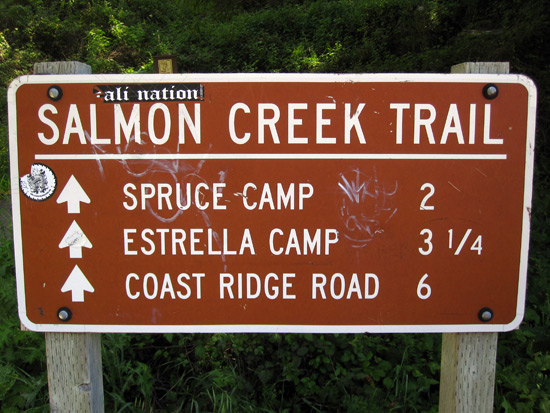 We got on the trail and found ourselves in a fork in the road, so to speak. †Itís funny because moments before I was quoting Frostís poem about two roads diverging in a yellow wood, and here we were having to make the decision of which way to go. †TheGirl used to hike a lot, so when she said we should stay on the side that the sign said was the trail I followed. †The other path, to the left, looked for inviting to me. †But I deferred to TheGirlís knowledge on this one. †Well, half way up the trail we were met by a rattle snake, startled out of the brush by a pair of dogs with the group in front of us. †TheGirl said that we should turn back, but I wanted to throw a rock at the thing. †I didnít, and we turned back. †It was the best move of the trip. †When we went down the other path we found ourselves in front of this 60 foot waterfall.
The picture above doesnít do this place justice. †Suffice to say it was stunning. †In order to get to where I took that photo we had to cross a the creek, which was pretty deep.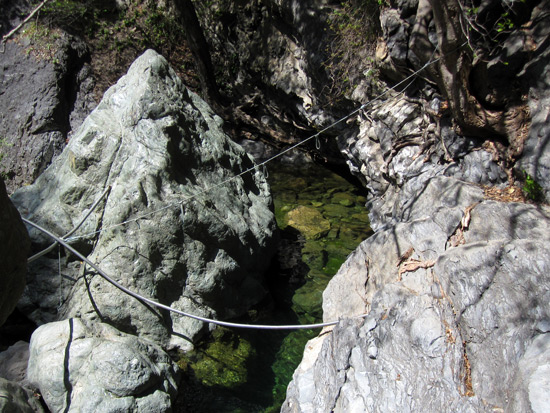 We crossed using a pole and rope that was placed across the creek. †I nearly didnít try to cross, but my will to seek adventure won over the thought of falling into the creek. †The funny thing is that we later found another way around that didnít require crossing the creek.
* * * * * *
Here are a few pictures of the Big Sur River Inn restaurant.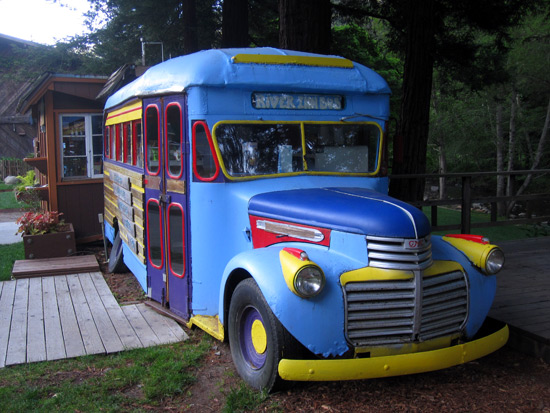 * * * * * *
On day two we had breakfast and put a cap on Chan and we went on our way. Hereís a couple of pictures of Chandaka after TheGirl put my Big Sur cap on hims.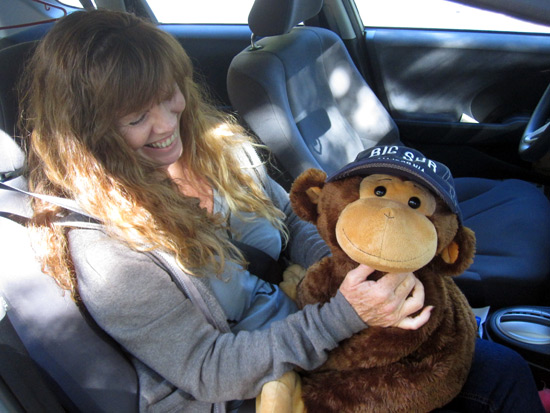 I know what youíre saying, who is Chan? Heís our monkey. Thatís the short answer. The medium size answer is that Chandaka is a toy we bought a day before my birthday two years ago. He represents what might have been. He represents what was. I guess thatís why Iím attached to that little toy monkey. Thatís why I melt when I look at the two pictures above. Heís the child weíll never have, the little bit of me that TheGirl adores, and something we have in common. Thatís a lot for a little toy monkey.
* * * * * *
After breakfast we headed down to Limekiln, which turned out to be gorgeous.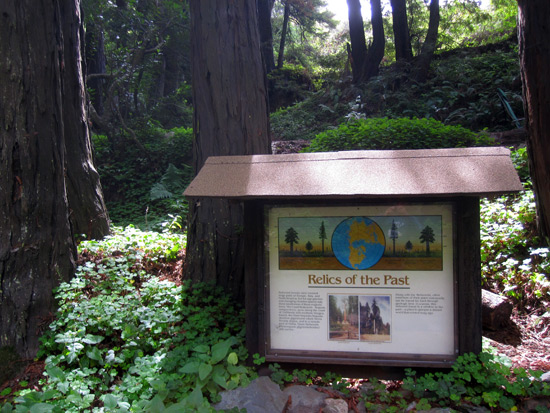 The hike and waterfall at Limekiln were the highlights of this trip to Big Sur. The meadows up to the kilns and waterfall were something out of a dream. Everything was so green. If Big Sur isnít heaven on Earth than I donít know what is. These are natureís cathedrals, the most beautiful of natureís creations.
* * * * * *
Following Limekiln we headed up to Point Lobos, near Carmel. The views there were spectacular.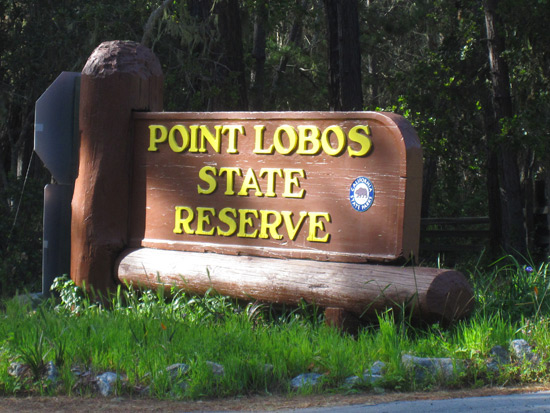 * * * * * *
The following day, travel day, we stopped off at McWay falls and took some pictures of the view. Itís still one of the most beautiful places Iíve ever visited.
We returned home not really wanting to come back. I wanted to stay another day, but TheGirl couldnít justify staying another day. But both of us felt on Monday that another day would have been awesome. TheGirl was already talking about our next trip up there. Itís crazy to plan a trip so many months in advance, not knowing what will happen.
Itís also crazy because the first trip that I went to Big Sur alone was supposed to be our anniversary trip. It was going to be our two year anniversary. We never made it that far, but subsequently we have traveled to Big Sur twice, with a third trip now in the planning stage. Whatís up with that? TheGirl doesnít like commitments, she likes things loose. But she also loves me. She knows Iím probably the only man that will treat her a certain way. So she stays, in a pseudo relationship, with me. We may or may not sleep together again. She left the door open for that possibility. In essence she opened the door for me to pass through it. I didnít pass through it because I know that will mean Iíll become more emotionally attached than she will. Itís happened in the past, it will happen again. If I do sleep with her again Iíll have to have her completely out of my system before I do. Ha, but thatís not really going to happen, huh? Sheíll never be completely out of my system. Weíll always have something, be it the good memories, or Chan, or something else. I will always be in love with her... that is until I fall in love with someone else. Tall order.
All I know is that I want to go back to Big Sur and stay a week. I want to win the lottery and stay there forever. One can dream.
End Communication.