For a while I've been flying under the radar at my horrible Glendale job. I fooled myself into believing that things had changed there. That I was off the shit list and had made it to the neutral list a least. I've tried to keep my nose clean, and I've been doing a good job at it until Friday. Yesterday was terrible. Not the whole day, but a two hour sliver just before quitting time. I don't want to tell the whole story, but suffice to say I screwed up something minor that turned into a major thing with the conference rooms. It was my mistake, and I owned up to it. What did suck was how my supervisor got on my case about it. She doesn't need to talk to me like I'm a child. Constructive criticism is needed in a situation like this. Just mention what I got wrong in a calm manner, not some orgy of angry words of how dumb my move was. Clearly anyone can make an honest mistake, there is no need to verbally beat me up about it. I felt bad I made the mistake, and was beating myself up afterward. So I didnít need to be chided. Iím a grown man, fucking forty-two years old in less than two weeks time.

This is what I fucking hate about this job. Most of the time it's OK. But when this particular supervisor gets on you, it feels like a dog is sinking their teeth into you. Like she enjoys it. I texted my buddy after all this and I said how I really have to set a six month deadline to quit this job. I don't deserve this, nor do I want to have to endure much more of this bullshit. Though I know that any other job might offer the same bullshit, just from a different supervisor. Although, it is universally acknowledged that this particular supervisor is a terror, and runs hot and cold.

I donít know what outlet I have to escape. About the best things I can think of is winning the lotto, selling my photos at a pace where it would sustain me, or finding another job. The most viable would be the other job idea. Under the current economic circumstances all three have even odds. In short, Iím fucked. I need an exit strategy.

* * * * * *

Thankfully after work I escaped to Disneyland to meet up with a couple of my co-workers (pictured above). It was something called Dapper Day at Disneyland, where people dress quite snappy and genially looked nice. I rushed over, and made good time on the freeway. Still, it took me an hour and a half to get to Disneyland from work. Once there I met up with my mates and had dinner, went on a couple of rides, and then met up with another co-worker and had a couple of drinks in Downtown Disney. We ended the night after dropping off one of my co-workers at his car and then going to IHOP for a late night snack. The Disneyland part of my day made up for that sucky part. Definitely! I really have to escape this bullshit job of mine.
* * * * * *
The NFL season started this past Thursday. The first game of the season was a great game between the Broncos and the Ravens. The Broncos slaughtered the Ravens in a game that started out pretty even, but turned into a Broncos blow-out. What puzzles me is the collective dump NBC took on us when they had Ryan Seacrest come out and announce the opening of the season (pictured below).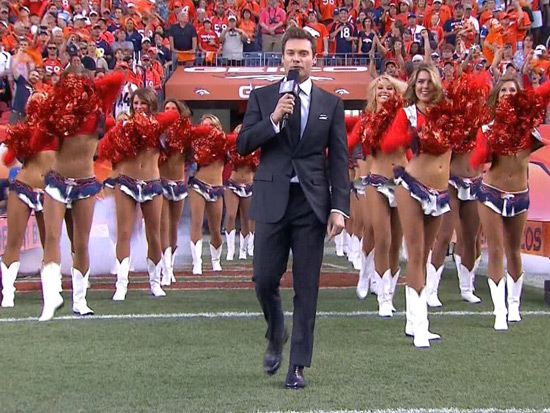 No one that watches these games has any need for Ryan Seacrest in their lives. The crowd at the stadium clearly didnít want him there, as witnessed by a choir of boos. And why not boo him? Heís so banal. The only reason he was there was because he has a new show on NBC. Thanks NBC, for shuffling out some hack onto the stage because heís youíre new guy. Iím not going to watch his new show, Thatís for sure.
* * * * * *

Carlís jr. has me completely pegged. The above is a screen cap of a Carlís commercial selling the western bacon cheeseburger for the low price of two for five dollars. I went today after picking up my aunt we bought two western bacon cheeseburgers for five bucks. My buddy once shared an article that said that Carlís commercials are geared towards hungry young men. Iím not super young, but the techniques still work on me.

* * * * * *



Lastly... Lady Gaga appeared on the VMAs a couple of weeks ago, nearly naked. I have to say, she has a really nice ass (example below).
That is all for now.
End Communication.