Ahhh, spending a quiet Saturday alone. I love these days when I can just sit at home, do nothing but work on the computer and watch TV. I did run a couple of errands, but nothing big. What sucked is trying to find that vodka I like, named funny enough Wodka. Itís the shit. Sadly no where I went today carries it. The only place that I know carries it is way out in Glendale. And I really didnít want to drive out there today. hence, no booze. Maybe Iíll buy some tomorrow, but I really wanted a little in my belly just now.

Oh well, whatever. hereís whatís up. This week was pretty uneventful. I didnít have much cash this week, until Friday payday. The car payment and my American Express payment pretty much wiped me out. Somehow I survived with three dollars in my pocket.
Last night I went to a place called the Taco Spot in Eagle Rock for dinner. The food was pretty yummy, but certainly not the best tacos I've ever had. Still, it's good to have a tried somewhere new. Following dinner we booked it over to Chinatown and then Silverlake for a little walking.
* * * * * *
Today my aunt told me that sheís completely retiring at the end of the year. Itís bad enough that she only works a few days a week. Now sheís going to be up in my business on my weekends. ARGH! I need a place outside of this house where I can just chill and DO NOTHING if I want to. Good luck with that, I suspect. I did buy a lotto ticket last night in Chinatown. If it wins, big changes! If not, then bullshit!
* * * * * *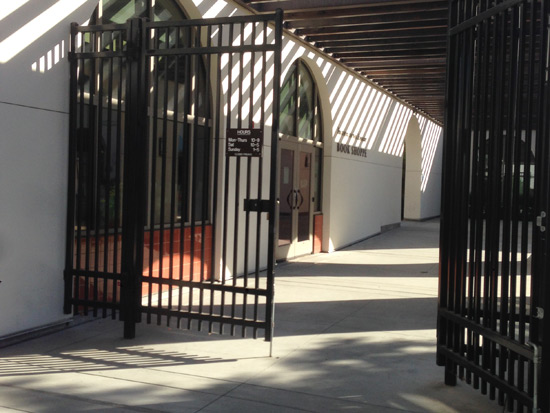 The gate above is one of two at work. They are always half open, as you can see in the picture. This super annoys me. I have often had to stop and allow someone to pass, and that drives me crazy because I shouldnít have to. The gate is wide enough to allow a pair of people to pass. But not when itís closed. The reason Iím given for it only being half opened is because thereís a sign with the libraryís hours on the gate and supposedly this informs them of said hours. Having worked there for five years Iíve yet to see anyone actually looking at those hours. Every day I work at the library I open the gates up all the way. I wish those who open them the rest of the week would do the same. Yeah, right!

* * * * * *


I wrote back that guy from the Kincade gallery this week. I havenít heard back from him. Perhaps all this isnít meant to be. Perhaps no one will ever discover my work ever, or perhaps until after Iím dead. Great, just great! So typical. Course, itís possible that even after death no one will see my work. Oh well, by that point I wonít be around to care.

* * * * * *

Pretty girl time. Looks like the girl that found fame for being the quarterbackís pretty girlfriend is now doing Carlís Jr commercials.
Know what? Makes me crave a Carlís burger. Though, I must say this combination of hot wing hot sauce and blue cheese isnít making me run out and get a burger. I donít really like blue cheese, and that hot wing sauce isnít all that great. Better I focus my attention on the super bacon burger. Thatís some good stuff.
End Communication.