It's nearly time for another Big Sur trip. I checked the weather and it looks near perfect.
I have to start thinking about where I want to take some early morning photographs. I can't go too far from home base because I only signed up for one night's stay in Big Sur. Night two is booked in Monterey.
* * * * * *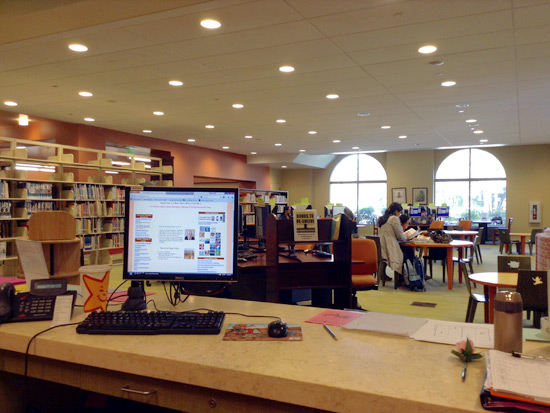 I covered for a coworker on the children's reference desk Saturday. It was kinda lonely there, seeing as the desk is a bit hidden. The designers of the San Marino library must have been drinking, or something, because the library has some silly little design flaws that get magnified when all put together, and when you have to work there every day. And I've been there six years, so I REALLY see them. But one area I don't get to spend much time in is the children's area. I used to go and talk to one of the former library assistants, because I was flirting with her. But since then I haven't spent much time there. I was a little afraid I wouldn't be able to handle the children's reference the way I do the adult side. But, my crowning glory came when I young lady asked me for a book related to permanent markers, and just how permanent the ink really is. My mind raced to figure out just where I could find that information in a book for her. I thought that perhaps home economics books could help. I was playing the stain angle. It was a good one, because after a little searching I found a book that did have a remark about how permanent markers are pretty much permanent. NICE! I pulled that rabbit out of a hat. Yay me!
* * * * * *
TheGirl told me on Wednesday that her friend was pounding her about getting rid of her car. She drives a Chevy Equinox. Which is an OK car. I liked driving it. Despite the fact that it has a four cylinder engine is gets lousy gas milage. Mainly because it's oversized and underpowered. Also, TheGirl's commute consists of driving the 10 freeway, which is one of the busiest in the nation. Her gas milage sucks because she travels at a crawl. She's spending so much money on gasoline that it's not worth it for her to continue driving this car. Saturday she texted me soon after I finished worked that she has traded in her car for a Cruze. I guess I'll see it on Monday. I hope this move helps her, but picking another Chevy makes me cringe.
* * * * * *
Lastly, I now have my photo for the photo contest I intend on entering next week.
The photo above is my entry, "Life's Elergy." I picked it because of TheDesire. I keep getting down about about my work not even getting an "honorable mention." But I have to keep getting up until someone finally recognizes it.
End Communication.