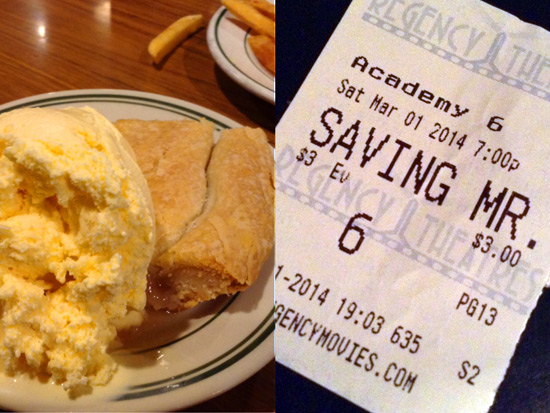 I had the day off Saturday. Nice to have back-to-back days off. I haven't had that for a while. Saturday's big event was going to see a movie with TheDesire. She doesn't hesitate when I ask her to hang out. No one is on her radar, and of course my plan is to linger until she gets that she should be with me. That plan might never actually work, but I have to try. I have to be right by her. I have to show her that time with me is special. That we make a good couple. That I'm the right man for her. Am I the right man for her is another question entirely. All I know is that I really, REALLY, like her. My like for her has not diminished despite the fact that she rejected me a couple of months back. I still think deep down inside that I can win her over. Time will tell if that's just a pipe dream.
I picked her up from work. We were both hungry, and she was saying that she wanted to eat something tasty because Monday was the start of Lent and she wouldn't be able to eat certain things. I took her to Pie n Burger for some yummy burgers and pie. That place doesn't take credit cards, so I filled my pocket with money. Good thing because when it came down to the bill she asked if they took cards. I said I would get it. $40 for a pair of burgers, Cokes, one plate of fries and pie (and the tip). A small price to pay for the girl I like. For the girl I'm trying to win over. She bought tea before the movie and the movie tickets. They were $3 each. Again, I'm not counting. Money is important to her, and right now I'm making the most money I've made in my life. I'm not ballin', but I'm doing pretty good. I can afford a $40 meal and not worry about not having enough to pay a few bills. I paid off the big bills Friday, car and mortgage.
We went in and saw the movie. It was good for what it was, a telling of the story behind the making of "Mary Poppins." It made me well up a few times, tugged at my heart, and made me feel good. TheDesire needed to get home to have some yummy food with her Mom, so we couldn't hang out. I would have taken her to a ice cream shop down in Old Town. They have yummy ice cream. She would have liked it. I'm playing all this as the friend. No longer interested in dating friend. But I am. I have held myself back from falling for her, because falling for her would be the dumb move. Only AFTER she says she is interested in me. Then I would fall for her in a near instant. I like her. The night ended with a short drive back to her car by one of the library branches and me talking to her about art and the movie. I told her that I wanted to go with her to the Getty Center to check out some Ansel Adams photographs. After I got home I called my buddy and among other things I told him how in a drunken stupor I bought a framed version of the photo TheDesire named for me. It cost me $200, and I want to give it to her for her birthday in three weeks. I thought better of that, but then last night as I talked to my buddy I told him that I would give her the photo. Yes, I like her THAT much.
* * * * * *

Sunday work was slow to begin with, then became busy around 2pm, and then died out again towards the end of the shift. I talked to T about her dating deal-breakers. It reminded me that there are things that people are willing to look past, and other things they aren't. Makes perfect sense. T wants a certain kinda of guy in her life. Of course these things don't work out like this, because despite it being called a meat market, dating is not like going to a store and picking out a particular partner. It kinda just happens.
After work I went over to TheGirl's place. For some reason she wanted to have dinner tonight. She has been making more and more plans with me as of late. TheChisel is still in her life, but she is certainly cutting him out of her life. This is where I come in. I don't mind, as long as it doesn't interfere with my pursuits. Like hanging with TheDesire last night. TheGirl and I went to a vegan place in Silverlake. My potato tacos were OK, nothing SUPER good. The rice was dry and flavorless. The beans were good, but I needed chips. TheGirl ordered a burger, which she let me taste. I should have gone with the burger, but I didn't want to just have a burger. One of the things about these vegan restaurants is that flavor takes a back-seat. Often the ingredients that in theory should be flavorful, more-so because they aren't processed, aren't flavorful at all. The food I had tonight was rather bland. I've had bland fast food, but that doesn't pretend to be anything but fast food. These places say that they're food is healthier and tastes just as good as a non-vegan restaurant. But it's like how they can't get fake bacon right, because of the nature of what bacon is.. pure fat, they can't get other things right because they take out the very thing that give the food its taste.
During dinner I debated about telling her that I went to see "Saving Mr. Banks." I certainly wasn't going to tell her with who. But when I told her last week she told me to be sure to tell her what TheDesire thought of the movie. I didn't tell her I went with TheDesire, and I didn't offer the information. I know she wanted to ask, but she didn't.
Lastly I have above a text from Talia. Our last text of the night. She sent me a text last night while I was at the movies with TheDesire. She said something like hey sexy. I didn't know who it was, because it was a new number for her. Just as I was going to ask who is this she told me it was her, Talia. We texted today. At one point she told me how she wants to have sex with me. She had been sleeping with a fellow I've mentioned here before, a guy she met at a bar and took home. She fucked him, they continued to fuck, and then he moved in. He apparently doesn't have a dime to his name, but Talia was happy to have him around in order to have a fuck. But now apparently both of them have lost interest and are not fucking. That's where I come into the picture. Any time Talia has wanted to fuck I've been down to fuck. Now she wants to "take pictures" and of course fuck. We'll see what happens.
End Communication.