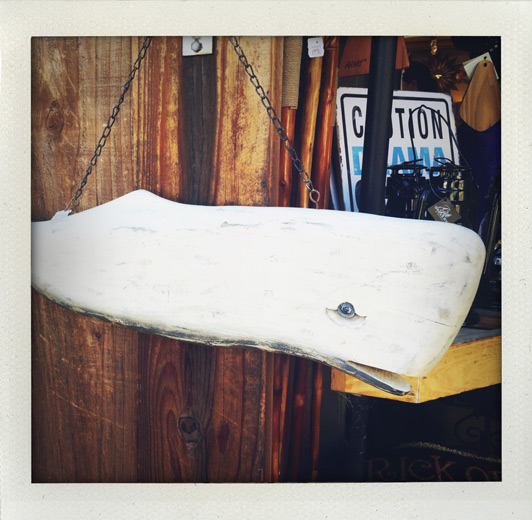 Location: Cambria, Ca
Story: The white whale is alluring to us because it is so not like us. Yet, we attribute all that is in our hearts to this creature.
"All that most maddens and torments; all that stirs up the lees of things; all truth with malice in it; all that cracks the sinews and cakes the brain; all the subtle demonisms of life and thought; all evil, to crazy Ahab, were visibly personified, and made practically assailable in Moby Dick. He piled upon the whale's white hump the sum of all the general rage and hate felt by his whole race from Adam down; and then, as if his chest had been a mortar, he burst his hot heart's shell upon it."
- Moby Dick, Herman Melville
I took this picture in Cambria during my last trip there, less than a couple of weeks ago. That trip was short, but it was sweet. I needed to get away after working for nearly six weeks in a row without a day off. Cambria speaks to me like many little towns and hamlets do along the central coast. But Cambria is a little more special because of Moonstone beach. The sea is alluring. The white whale is alluring as well. As a symbol representing our darkest thoughts, and our wish to conquer them.