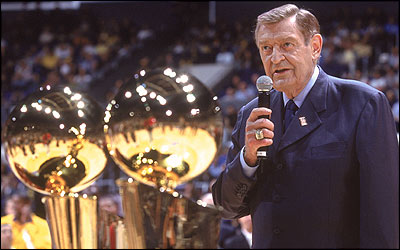 Franis Dayle Hearn died today. Millions knew him as Chick. To all of us here in Los Angeles he was not just the voice of the Lakers, he was the Lakers. He was the living embodiment of what the Lakers are... for the simple reason that he honestly reported what was happening on the court, in an entertaining style that so many others have tried to imitate, but could never duplicate.
I grew up watching Laker games here on channel 9, and Chick was there all the way... but now he won't be. I don't know how I'll be able to watch a Laker game and not feel sad by his passing. I know he wouldn't want that, because he loved the game of basketball... and his love came through in every call he made. My love of the game began with Chick Hearn's voice. I mourn him tonight like I would a member of my own family. I'm in tears right now... I can hardly see the computer screen.
For those who might be reading this and wonder why I, and millions of Laker fans, mourn a basketball announcer I can only say that Chick was not just an announcer. He was a member of the family. He was professional. He was perfection behind the mic. He taught me the game. He made me see the game through his word's eye view, which was like being there... even when I listened to the game on the radio. His radio broadcasts were better than the network's TV broadcasts. So many of us here in Los Angeles would turn on the TV and put the TV on mute, then turn the radio on to listen to Chick when the game was being broadcast nationally.
To those of you who love the game of basketball, but never got to hear him do his job... I feel sorry for you. You never got to hear the best. You never got to know the man who invented the lexicon of basketball. Every time someone says "Slam Dunk" remember that Chick said that first. But that wasn't all that he did. He brought joy to millions of fans in this town... and he brought joy to me.
You never got to hear him... and now since his passing, you never will. My heart goes out to Chick's wife. This next week would have marked their 64th wedding anniversary. My heart is breaking... and I can only imagine how she must feel right now.
This is one of the saddest moments in my life. I'll always remember him not just for the plays that he called, but for way he called them. During the lean years between Showtime and the current Laker championship run there were years where the Lakers weren't very good. I still loved watching the games, because of Chick. He made any game entertaining... even the blow outs. He never lost his enthusiasm for the game.
I'll miss you Chick, and so will every Laker fan you touched with your words, and your kindness. Thank you for all the wonderful years. Thank you for being there. Thank you for being you.
"This game is in the refrigerator... the lights out, the eggs are cooling, the butter's getting hard... and the jello's jiggling."
Franis "Chick" Hearn
1916 - 2002
Column by the late Jim Murray on Chick Hearn, originally published Sept. 25, 1986.
JIM MURRAY Talk of Fame Earns a Star
"Top of the key to Baylor.... Baylor yo-yo-ing in the frontcourt.... Give and go to Goodrich!.... Bounce pass to West.... Dribble-drive to the basket.... He turns.... He's fouled!.... Oh, no, Mendy didn't call it! No harm, no foul.... High post by Wilt.... Turnaround fake by Jerry.... He puts Cazzie in the popcorn machine. . . . He shoots!.... He scores!.... Fall back, baby!"
A lot of my friends have their own pieces of sidewalk on Hollywood Boulevard. Spencer Tracy. Claudette Colbert. Mary Pickford. Gable. Doug Fairbanks. Bogie. Errol Flynn.
'Course, I didn't know all of them personally. But Tracy has been a friend of mine ever since "Captains Courageous." And Gable and Colbert crept into my heart in "It Happened One Night."
But now, guess who's joining Tracy and Gable and Katharine Hepburn and John Wayne? Guess who's joining legends like Tom Mix and Iron Eyes Cody and Charlie Chaplin and Mack Sennett?
Francis Dayle Hearn is who. Chick Hearn. The world's greatest basketball announcer. The machine gun that talks like a man. The guy who did more than any other to take pro basketball out of the drafty gyms in Peoria and Altoona and put it on prime time.
Every basketball player signing a million-dollar contract should take off his hat stepping across that slice of sidewalk on Hollywood Boulevard they dedicated to Chick Hearn Wednesday. It's a shrine of their biz if not show biz.
Basketball was a tough sell when Francis Hearn came along. I remember in the late winter of '61 going down to the Sports Arena where they were staging a playoff game between the then-St. Louis Hawks and the newly arrived?from Minneapolis?Los Angeles Lakers.
It was a Sunday afternoon, and they used to click off the attendance on a screen high above the arena floor. It read 2,800 that day as the teams took the floor.
Now, mind you, this was a playoff game. The division final. But not only were there few customers, there were hardly any other journalists covering games in those days.
But the Lakers had made a very important acquisition just before that series. In later years, they were to acquire Wilt Chamberlain, Kareem Abdul-Jabbar, even Magic Johnson.
None, however, was ever so important as the free agent they picked up that winter of '61. Chick Hearn and pro basketball made Romeo and Juliet, ham and eggs, gin and tonic look like unmatched opposites. It was like a river joining a sea. Caruso finding a song, Van Gogh a brush.
Any sport needs a lively nomenclature, word pictures that go into the language. Simple terms like bases loaded, circus catch, circuit clout, screwball and squeeze play all served to dramatize the grand old game of baseball that even became the national pastime, thanks to the fertile mind of some chronicler of press row.
Ted Husing took football out of its dock-fight image and invented secondaries, even tertiaries for its defensive postures, and talked of whole hosts of tacklers and coffin corner kicks until the game today is so full of colorful allusions it is almost liturgical in scope.
Chick Hearn did the same things for pro basketball, which had almost no language of its own when he came along. No more would division playoff games be played before 2,800 spectators after Chick hit the scene. They became the hardest tickets in town once Chick was out in front of the tent.
He didn't make basketball occult, he made it fun. He knew it as a player himself and he was far from a homer. Chick became almost a public scold when a player malingered. Or an ownership.
That's why he has his gold star and his own section of sidewalk on Hollywood Boulevard. He didn't play the pro game but he sold it. As Elgin Baylor said at the dedication ceremony: "You made us stars. When you have a product, you need somebody to promote it. That was Chick."
The Hollywood Walk of Fame is for entertainers, communicators, pioneers, builders. That's why Chick's there. He qualifies on all counts. That's why he finds himself across the street from Spencer Tracy and Claudette Colbert on Hollywood and Highland and not far from Adolphe Menjou and the forecourt famous of the Chinese theater.
He belongs to the ages now. Wallace Beery, Brian Donlevy, Cary Grant, Jimmy Stewart?and Chick Hearn. Pretty heady stuff for the ex-backcourt man from East Aurora and Peoria.
Pretty soon they'll be selling star maps to his home and he'll have a busload of people waving when he puts out the garbage in the morning. Paparazzi will be waiting in the bushes with poised shutters when he emerges to go to work. They'll want Robert De Niro to do "The Chick Hearn Story."
Hollywood Boulevard is marbled with the names of men and women who helped build a multimillion-dollar industry. Chick Hearn is there because he's one of them.