In my photo class I had an assignment to take pictures of stuff, anything and everything. I went downtown on the metro and I figured I would kill to birds with one stone, and take the pictures for my assignment. Here they are for you to check out.
This first picture was taken on 7th street, obviously. The building in the middle is the former First Interstate Bank building.
This turned out to be a great "of the moment" picture. I was walking down 7th street when this guy turned around and I took this quick picture. It's a picture that illustrates how one must have the camera ready at all times.
I put my superwide lens for this interior picture of Clifton's Cafeteria. I've tried to take pictures of the Clifton's interior before, but it's so hard because of the low lighting. This picture was taken with a short shutter speed, yet it still came out OK.
I love the color of this building on Olive street.
The chandelier inside the Central library downtown is TOO COOL!
This is the interior of the Red line metro. This was another picture that I had to take at a slower shutter speed. I'm super glad that it didn't come out blurry.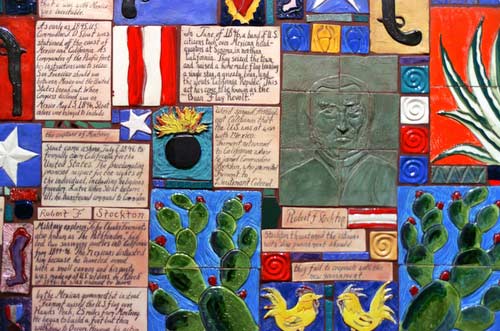 Lastly this is a picture of bunch of tiles that line the central columns of the Universal City metro station. The tiles portray the early history of California/Los Angeles.