Here's a picture of me with my new messenger bag. I've never carried this much around in my life. The first week of class my back was killing me. Not any more though. So here's me with my messenger bag.
So I have about $10 in my pocket right now. I'm living off the dollar menu these days. Last week I got this coupon from Wienerschnitzel good for a free chili dog. Yesterday, with my $10 in my pocket, and got my free hot dog and a side order of fries. The hot dog was just sad, the fries where good though. I'm glad I ordered the fries.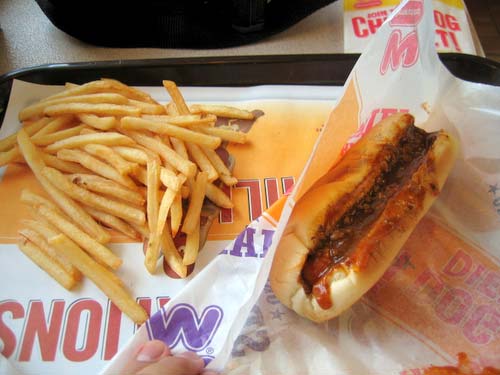 Thankfully lunch cost me $1.40 because I had that free hot dog. Thank the maker for little things like free hot dogs. Even if the dog tastes bad, it's at least free. Wait a minute, it sucked, and it being free didn't doesn't take away from that fact.
Amora Simpatica was cracking up last week about the name Wienerschnitzel. I was saying it with the strong V sound instead of the W sound. OH, and I was adding Der in front of it... Der Vienerschnitzel. Der, that's a funny sound... DER!
I had to go drive to campus today to look for a book that I need for a class. Just my luck, they didn't have it. On my way back home I went up Reseda and saw that there's a Chipotle being built right by campus. OMG, I so love that place. They have such great guacamole and chips. Sadly there is no dollar menu at Chipotle. Just my luck. Why doesn't anyone hire me? Dammit, this is getting sick.