This past Saturday I went to Disneyland. It wasn't your ordinary run of the mill trip though. I got to go to the members only Club 33. You may have seen the door right next to the Blue Bayou restaurant (pictured below).
Every trip I've taken to Disneyland has been different in some way, but also similar in that I go on rides, eat, and maybe buy something. This time was different in many ways, but most significantly because I was invited to visit Club 33.
A friend of a friend is a member, and my friend invited me to check it out since she knows I'm a big Disneyland fan. About ten years ago I went and bought an annual pass. I was an annual pass holder for about five years, until I had to give it up due to cost and time (which I had less of). I pretty much know the park inside and out. I've been on all the rides at one time or another. Yet the one place I had never been to was Club 33, which requires a membership to enter. And it's not just some pittance to join, it's like $8,000 for individual memberships a year. And even if you have the money you have to wait in line to become a member, because there is a waiting list. Maybe I should get in line now so that when I actually get some money I can already be ahead in line. In all my life I didn't think I would be one of those lucky few that visit the club. But now I can say that I visited Club 33, and it was one of the best nights of my life.
The club serves dinner, but not just some burger and fries like you can find around the rest of the park, but rather a beautiful five course meal. The decor is much like the rest of New Orleans Square. It's incredible to be in a calm and relaxing suite while throngs of people scurry about from one attraction to another below. While up on one of the balconies I thought to myself how wonderful the moment was. I was looking down on New Orleans Square as someone else looked up, probably wondering what I was doing up in the balcony, taking in as much of the atmosphere as I could. I wanted that moment to just be soaked into my very being. I bathed in that moment and thought to myself just how lucky I have been throughout my entire life.
Aside from the knowledge that I was privileged to enter a place where few had the chance of every visiting, I thought about how this is a once in a lifetime event for someone like me. I don't have the riches or the connections it takes to be a member of Club 33. Someday that might chance, but for now I have to consider this visit the only one I might ever make to Club 33. With that knowledge I felt I needed to breathe in all that I could, experience every moment to its fullest degree, and just remember.
I don't want to forget talking about the dinner that I was served. It was great from start to finish, but especially the finish. It started off with a salad, which wasn't over the top, just some greens and nuts. The nuts had a sweet taste to them. This was followed by a salmon on a bed of spinach with some kind of sauce, and pieces of sausage on the side. Salmon is not my favorite, but this was some good fish. This was followed by the main course, a New York Steak with fruit stuffing. The steak was good, but not spectacular. However, as soon as I tried some of the sauce on it the steak came alive with flavors. The stuffing was great as well, a new favorite of mine. The next course was the cheese course. I had three really great cheeses, one of them made out of goat's milk. I mention this because I usually don't like those kinds of cheeses. This one was subtle and tasted quite good. There was another cheese that I can't remember that was my favorite of the cheeses. The final course was dessert, an incredible cheesecake with a watermelon sorbet, and strawberries. It was by far the best cheesecake I've ever had. My enjoyment at Club 33 was truly one that included all my senses, especially my senses of sight and taste. I won't ever forget that dinner any time soon.
Oh, and the other cool thing was getting to see the Nightmare Before Christmas redo of the Haunted Mansion (pictured below). The whole thing was decked out in pumpkins, it was too cool.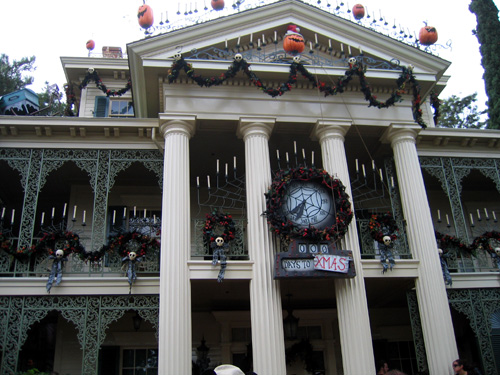 Here is one last picture of Disneyland, in this case Sleeping Beauty's Castle.
End Communication.