I have not had the greatest track record on new years eve the past several years. It was only three years ago that she who will not be named broke my heart on new years eve after I professed my love for her. Boy, was that a huge mistake. This year new years eve was spent with Megan on Orange Grove blvd. checking out the Rose Parade floats the night before the big parade. Here are a few pictures.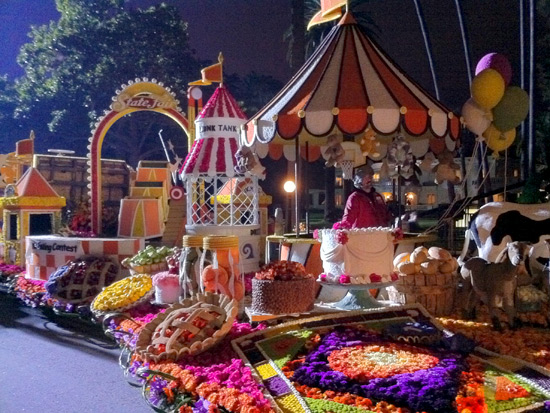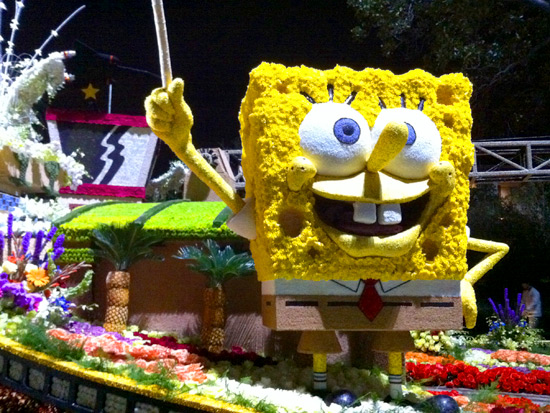 Megan heard that the floats were lined up the night before on Orange Grove, and since she had never been she wanted to check them out. I was excited because I had also never been to view the floats the night before the parade. It was chilly, so say the least, but there were a lot of people walking up and down the street. Megan and I were super surprised at the number of people that showed up. I mean there were literally a couple of thousand people walking up and down Orange Grove. There was a girl walking around announcing the time before midnight. Every minute she would announce, "Five minutes!" The next, "Four minutes!" And so on and so on until she got to one minute.
Megan said to me that never in her wildest dreams did she think at the start of 2010 that she would be on Orange Grove, at midnight on new years eve, with me. I certainly did think that was going to happen either. But, life has a way of changing in ways we never would have expected.
Our walk continued all the way down Orange Grove until we reached South Pasadena. I went on Google maps and found out that we walked three miles that night. That's quite a walk. Needless to say our new years kiss took place in the cold, but I wouldn't have had it any other way. :)
* * * * * *
The next morning Megan and I slept in like crazy, because we didn't get back home until 3am. We ended up sleeping in and not eating until mid afternoon. We decided to head off to Ikea for some yummy food. Here's a picture of our meal.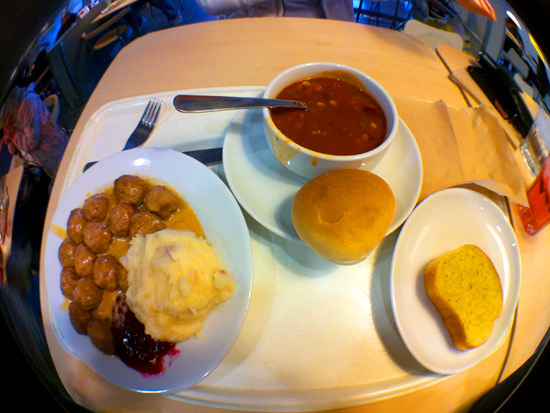 It wasn't until this year that I realized Ikea has such yummy food, and for cheap. The entire meal you see in that picture cost less than $8, and I was stuffed.
New years eve/day with Megan went by in a flash. It's only been a couple of days since then, but it feels like so long ago. I mentioned it to Megan how the time seemed to fly, and now it feels like it's was longer than a couple of days. It's crazy how we perceive time and space. Any other time three miles would have felt so far. But not new years eve. I liked checking out the floats. The only way to top it would have been to have tickets to the parade itself the next day. Perhaps next year. Something to look forward to.
End Communication.